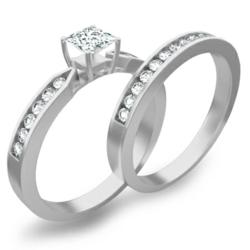 Emerald rings are part of new collection at JewelOcean, which also showcases many Emerald engagement rings, that are also set with diamonds.
Cockeysville, MD (PRWEB) May 07, 2012
Emerald rings have been worn probably since emerald was first discovered as gemstone. Emerald was used in jewelry by pharaohs in Egypt, and it was used by kings during the roman empire. The natural green color of emerald has always attracted both men and women alike. Emerald is the birthstone for the month of May. Women really love the green color of emerald. This is one of the primary reasons JewelOcean has now launched an entire collection of emerald rings, that features rings for both women and men. The emerald rings collection is now available on sale for limited time.
Over the last 4000 years, since Emerald was first discovered, numerous myths and legends have been attributed to the gemstone. It is widely believed to bring good luck and good fortune. This was one of the primary reasons merchant traders, mostly men, often wear emerald rings. However, women who are equally enchanted with the gemstone are not far behind. Emerald serves as a very popular gemstone for engagement rings, and emerald engagement rings are extremely with women. Many women born in the month of May use the Emerald rings as their birthstone rings. As such, the new collection at JewelOcean includes many popular designs and styles.
The collection includes many beautiful designs of emerald engagement rings, which are exclusively made in gold. These engagement rings with emerald are also adorned with beautiful white diamonds, as white diamonds make for a good combination with the green color of emerald gemstone. The emerald engagement rings on JewelOcean start on sale from only $299 onward.
For women who are looking for emerald rings for cocktail parties and other dressy occasions, there are also many options. The collection showcases many emerald rings made in silver, which are also set with diamonds. These emerald rings also serve as promise rings as they are extremely affordable, but still very beautiful.
Emerald has always been a very popular gemstone with celebrities. Many celebrities have their engagement rings made with emerald gemstone. As such, the new JewelOcean collection showcases many wedding ring sets, which are collection of matching engagement rings and diamond wedding bands. These wedding ring sets are made with Emerald and diamonds, and is available in variety of gold options such as white gold, yellow gold and rose gold.
The new JewelOcean Emerald rings collection is designed to meet requirements for both men and women looking for emerald rings for a variety of different reasons. This extensive emerald gemstone rings collection is made more affordable as it is now available on introductory sale price for limited time.
JewelOcean specializes in providing cheap engagement rings and wedding sets. The company's strength is in making diamond engagement rings more affordable. Customers can now customize their diamond rings with Emerald gemstone, and this provides them with additional options to design their engagement ring to their requirement. For a complete collection of cheap engagement rings, made with Emerald and diamonds, please visit the JewelOcean website.