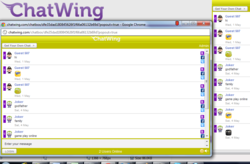 Seattle, WA (PRWEB) May 06, 2012
Internet memes have already became famous because of a humor website known as 9gag. This can be proven by checking out humor blogs, web pages, and common online expressions in the cyberspace. Chatwing's developers have already seen the potential of this niche. This is why they created a website chat tool that can help meme fans connect with each other and share their expressions.
For a meme art to become famous, it needs the support of dozens of Internet users out there. This is where the Chatwing chat box comes in. Since it is an application that specializes in providing communication, users can really benefit from it. Aside from that, Chatwing also allows Facebook integration. This means that guests and visitors can now log in using their Facebook accounts.
Since Chatwing is a widget, it can also be installed to blogs and websites. Installation is very easy and doesn't take much time. To install Chatwing, the user must first register his blog or website's domain name. After that, he can now proceed to customization. In this phase, he can modify the appearance of the chat box. After everything has been completed, Chatwing will now generate the needed HTML code. In just seconds, the shout box will now go live and visitors can now start chatting with ease.
To make the chat experience more entertaining, users of the Chatwing shout box can now use emoticons and avatar displays. This also makes the conversation more interesting. Some 9gag bloggers who used Chatwing have seen moderate improvement in their blogs' online presence in just days prior to installation. They also added emphasized that Chatwing allows them to communicate thoroughly with their visitors who are also meme contributors.
Users who want to utilize the potential of the Chatwing website chat app can visit its main website. Adding to that, Chatwing's Facebook page is available to everyone. This Facebook page is often updated with fresh and useful content.
About Chatwing.com
Chatwing.com has developed live chat software for websites and blogs. It caters to different online chatrooms due to its high rate of connectivity. Everyone can create a customizable live chat box feature in one minute or less. Users have the ability to customize the size, color, and fonts of the chat product. The ability to chat via social media accounts such as Facebook and Twitter enable Chatwing to offer a personal and unique real-time experience to all sites. Chatwing is 100% free and very easy to use.