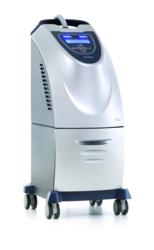 Working with Reaction™ by Viora allows us to complete our patients' needs – following the successful loss of weight, they can then address the resulting loose skin with a non-invasive, painless solution
Mt Kisco, NY (PRWEB) May 08, 2012
Dr. Briones Medical Weight Loss Center is excited to announce the recent introduction of Viora's Reaction™, a leading medical aesthetics device. This clinically proven, FDA cleared device addresses the most requested and popular medical aesthetic procedures such as cellulite reduction and body and facial contouring.
Dr. Briones Medical Weight Loss Center patients wanting to have superior treatments for contouring or cellulite reduction can be assured of the most advanced solutions available for both face and body. The CORE™ technology in the Reaction™ device ensures client safety, comfort, and efficiency, as well as faster treatment times, all of which clients greatly appreciate. Reaction's innovative technology enables the advanced ReFit concept designed to address loose skin following excessive weight loss, whether it be accomplished via surgical procedure, diet, exercise or childbirth.
"Working with Reaction™ by Viora allows us to complete our patients' needs – following the successful loss of weight, they can then address the resulting loose skin with a non-invasive, painless solution," said Dr. Maria Briones, Medical Director and founder of Dr. Briones Medical Weight Loss Center. "We have seen a great demand for these treatments and are excited to offer Reaction to our clients!"
"Dr. Briones and her staff helped me lose over 50 pounds – I look great with my clothes on but with summer on the way, I wanted to complete the new me," said J.S., Reaction patient. "I've been thrilled with my Reaction treatments so far and now can't wait to get to the beach!"
"We are proud to be associated with Dr. Briones Medical Weight Loss Center. Her patients have been seeing great results with losing weight and now with Reaction™'s advanced RF treatments for contouring and cellulite reduction, her patients have a safe, pain-free, clinically proven solution to address the appearance of lax, sagging skin," said Eliran Almog, CEO of Viora Inc. "Dr. Briones continues to effectively and comprehensively serve her patients by addressing their treatment needs following their weight loss."
About Dr. Briones Medical Weight Loss Center
Dr. Briones Medical Weight Loss Center, located in Mt. Kisco, NY, was founded by Dr. Maria Barones, a board-certified Internist and advocate for overweight and obese patients looking for weight loss solutions to lead healthier lives. Leading a staff of dedicated nutritionists focused on helping address the nation's obesity epidemic, Dr. Briones provides clients with proven successful, methods for weight loss and maintenance. Contact Maria Briones M.D. at 914-241-6249 or visit http://www.brionesweightloss.com for more information.
About Viora
Viora is a market leader in the development of technologically advanced medical aesthetic systems for physicians and aesthetic clinicians worldwide. Dedicated to the research and development of safe and effective devices, Viora provides the highest standard of professional grade solutions while keeping aesthetic businesses in mind.