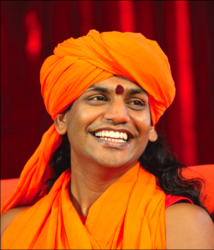 Inner Awakening is not teaching program, it is a process program where the Great Truths are inserted into your Bio-Memory.
Los Angeles, California (PRWEB) May 07, 2012
It may be recalled that Lenin Karuppan was arrested on 14th March this year by the CBCID Tamilnadu, India and remanded to judicial custody on charges of extortion, blackmail and criminal conspiracy in connection with the case filed against him by Nithyananda Dhyanapeetam administrator Sri Nithya Atmaprabhananda. He had been interrogated by the Indian CID.
Lenin's bail petition Criminal Petition No. 1592/2012 before the Hon'ble Magistrate of the XIth Metropolitan Magistrate Court, Saidapet, Chennai, India after due consideration of the serious nature of the offences committed.
Lenin appealed further to the Principal Sessions Judge for bail which got rejected on May 2, 2012, with the following serious observations by the Sessions Judge which has been recorded in the official court document pronouncing the bail rejection:
1. The crime charged is of the highest magnitude and the punishment prescribed by law is of extreme severity
2. There is likelihood of the petitioner interfering with witnesses for the prosecution or otherwise polluting the process of justice.
3. The antecedent of the petitioner who applied for bail has shown bad record, particularly a record which suggest that he is likely to commit serious offense while on bail and
4. The court may reasonably presume some evidence is available against the petitioner to connect him with the crime.
Lenin now continues to be in prison.
About Nithyananda:
Paramahamsa Nithyananda is a global leader in enlightenment science. He is the 293rd pontiff of the world's most ancient Hindu organization, Madurai Aadheenam. Revered as a living avatar (divine incarnation) by millions worldwide, Nithyananda is the most-watched spiritual teacher on YouTube.com with more than14 million views. He is also the author of more than 300 books published in 27 languages. Nithyananda was recently named among the world's top 100 most spiritually influential personalities of 2012 by the reputed esoteric magazine 'Mind Body Spirit' from Watkins. Clear, dynamic and modern in approach, Nithyananda's teachings have already transformed 15 million followers in 150 countries.
To learn more, please go to http://www.Nithyananda.org and http://www.youtube.com/lifeblissfoundation