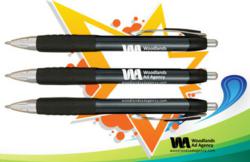 Promotional gifts, when used correctly, can promote a business in many ways
The Woodlands, Texas (PRWEB) May 07, 2012
Woodlands Ad Agency, a full service Houston based advertising agency catering to business to business markets, offers affordable promotional products that effectively enable entrepreneurs to gain widespread exposure.
"Promotional gifts, when used correctly, can promote a business in many ways," explains Darren Eiswirth, marketing director of Woodlands Ad Agency. "A magnet hung on the fridge, a pen tossed into a purse or a water bottle toted to the beach increases a company's market reach many times over."
A large-scale study conducted by the Promotional Products Association International (PPAI) discovered that promotional items are the only medium that effectively inspires action and increases long-term recall. Attractive, creative and practical products quickly yield a recognizable return on investment through customer loyalty, referrals, lead generation, increased sales and broader brand recognition.
"Our expert team of graphic designers supply creative ideas that help a business stand out from the competition," Eiswirth says. "Every recommendation is aligned with the company's target audience, goals, additional marketing campaigns, budget and, above all, brand messages. We help our clients find the most appropriate products that respectfully represent the brand while satisfying the customers' needs."
Through Woodlands Ad Agency, businesses have access to a credible network of 8,000 vendors and 3,500 product suppliers. These vetted professionals provide an astounding array of 100,000 high-quality products at affordable small lot and bulk rates.
Promotional gifts that possess the most staying power are typically practical items. When the product is used on a regular basis, the number of impressions it makes significantly increases. Unique ideas include giving the standard pen a facelift by adding a built-in laser pointer or USB drive, printing a corporate logo on company-issued safety glasses and dispensing branded potato chip clips to customers. Any product can be customized with a business's logo, motto or location as well as for specific demographic groups.
Alongside fostering a positive perception of the company and increasing customer loyalty, businesses can strengthen employee relations with incredible service recognition awards and build B2B relationships with impressive corporate gifts.
"From hats, pens and coffee mugs to tools, golf accessories and event water bottles, we offer gifts that people want to keep," Eiswirth says. "Since we have such a diverse selection of items and new merchandise appears daily, clients receive a complimentary consultation to brainstorm ideas about which products will make a successful giveaway."
Employing a professional in-house design team capable of delivering a solid advertising brand, Woodlands Ad Agency also develops marketing collaterals, such as customer loyalty cards and presentation folders, as well as eye-catching trade show exhibits, including vertical banners, tabletop displays and personalized tablecloths.
For more information on promotional products and trade show displays, visit WoodlandsAdAgency.com or call (281) 651-2220.
About Woodlands Ad Agency:
Based in The Woodlands, Texas, just north of Houston, Woodlands Ad Agency is a boutique firm specializing in corporate branding, custom graphic design, website development as well as Internet marketing campaigns and SEO. A full-service advertising agency, Woodlands is backed by an expert team of creative designers who aim to deliver high-quality work at a reasonable price.