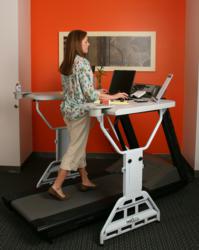 We have 70% of our population that is overweight, half of that number is obese. We are looking at it as a dietary problem when actually it is an inactivity problem.
New York, NY (PRWEB) May 07, 2012
Fox & Friends, the top rated national morning news program, has an eye for spotting emerging trends in America. This past week in a piece titled 'Standing More Prolongs Your Life' host Gretchen Carlson, along with legal analyst Arthur Aidala, introduced the nation to a health innovation with the potential to change the obesity epidemic and health landscape in America: the TrekDesk Treadmill Desk.
Honing in on one of the major challenges at the heart of America's obesity epidemic and current health crisis Gretchen jumped right onto her Spirit Fitness treadmill and TrekDesk asking "what are the negatives of sitting at a desk all day?"
"There are inherent health risks that are leading us to the chronic illnesses that we have in this country", stated Steve Bordley, CEO of TrekDesk Treadmill Desks. "We have 70% of our population that is overweight, half of that number is obese. We are looking at it as a dietary problem when actually it is an inactivity problem."
While the Surgeon General advocates 10,000 steps a day for minimum health maintenance, the average American walks less than half of that leading to a range of inactivity related diseases including heart disease, cancer, stroke and diabetes.
Associate producer AJ Hall comically illustrated the difference between slow continual movement during the day and a strenuous cardio workout by running on his TrekDesk equipped with one of the three "office quiet" Spirit Fitness treadmills. "I am running at 6.1 mph here, he related gasping for breath.
"Is it recommended that people run at work?" Gretchen asked while ramping up the speed of her TrekDesk to compete with AJ.
"No, but actually you will have more energy at the end of the day walking slowly that will make you want to do your running and do your cardio. But there is a distinction between exercise and movement," Bordley answered.
This distinction was illustrated deftly by legal analyst Arthur Aidala methodically walking while working in the Green Room during the segment. "Steve told me you can do this for eight hours a day so you are NOT going to be running like AJ for eight hours. But at the pace that Steve put me on, I have to be honest with you, I have been doing this for 37 minutes I have burned 70 calories, and after about 10 minutes you forget that you are moving. I mean I have read the paper, I wrote things, I was on the computer, I can make a call, I played with the Blackberry. I gotta tell you, it's pretty cool!"
"The Fox cast and crew were a lot of fun and great to work with and I really liked their creative way to visually show that exercising at work does not involve sweating, straining and running by showing the contrasts side by side, rather it involves a slow methodical pace throughout the day. We were especially grateful that Gretchen called attention to the W3 initiative that assists WinetoWater.org in its quest to bring clean water to impoverished corners of the earth. Three children perish every single minute worldwide due to waterborne diseases, which is more than AIDS and malaria combined. The steps we take in America to improve our health can also help them immensely," stated Bordley.
Watch the entire TrekDesk Treadmill Desk video segment on Fox & Friends here: http://video.foxnews.com/v/1620728348001/study-standing-more-prolongs-your-life/?playlist_id=86912
About the TrekDesk Treadmill Desk: Designed to fit any existing treadmill, TrekDesk treadmill desk is an affordable, full sized, height adjustable workstation that allows individuals the opportunity to gain the necessary amount of exercise daily to maintain health, prevent disease, strengthen muscles, boost mood and productivity, without requiring additional time during the day or extra motivation. Let TrekDesk show you how to workout at work.
TrekDesk is currently available for sale online at http://www.trekdesk.com.
Join the TrekDesk "Movement Revolution" to learn more, win a free TrekDesk or ask any health related questions anytime at http://www.facebook.com/trekdesk, or follow TrekDesk on twitter -http://www.twitter.com/trekdesk.