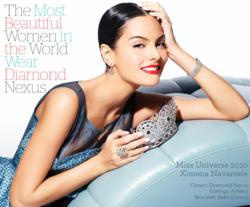 The Miss USA 2012 Fan Vote gives pageant fans an opportunity to take an active role in the competition by voting for their favorite contestant
(PRWEB) May 06, 2012
Planet Hollywood Resort and Casino in Las Vegas, NV will be hosting the Miss USA Pageant at the Theater for Performing Arts. Andy Cohen, from Bravo, and Giuliana Rancic, from E! News will be returning as hosts of the event.
Last year marked the first time that viewers were able to use fan voting to secure the winner a place in the semi-finals. Last year's winner, Alyssa Campanella, Miss California, was crowned Miss USA 2011. She went on to place 16th in the Miss Universe competition in Sao Paulo, Brazil.
Fans can vote for their favorite contestant up to ten times per day, with each account/ valid email address. Voting ends on June 2nd at 12pm ET. Voting can be accessed at this link: http://www.missuniverse.com/missusa/members/contestants
"The Miss USA 2012 Fan Vote gives pageant fans an opportunity to take an active role in the competition by voting for their favorite contestant. The contestant with the highest number of votes will be announced during the live telecast on June 3rd at 9pm EST on NBC and will advance to the semifinals to compete for the Miss USA 2012 crown," commented Will Henderson of thePageantGuy.com.
The Miss Universe Organization is a joint venture between Donald J. Trump and NBC Universal, establishing role models of beauty, leadership and health for young women. The Miss USA pageant, as a part of the Miss Universe organization, partners with charities all over the world.
"I personally cannot wait to watch the moment that the lucky winner's name is called out and she realizes that she is the next Miss USA. All of the contestants put everything that they have into the pageant and it is always an emotional experience, even for all of us at home. Being crowned with the Diamond Nexus crown is no doubt a dream come true and Diamond Nexus looks forward to having the opportunity to work with the next Miss USA," said Jennifer London, Social Media Coordinator.
Tickets for the event can be purchased at this link: [http://www.ticketmaster.com/Miss-USA-Pageant-tickets/artist/1018096
Diamond Nexus was founded in 2004 with the purpose of bringing to the public the powerful benefits of the lab-created diamond simulant revolution. They have over 250,000 customers worldwide that have awarded them an "A+" rating with the BBB, and are the ninth largest online jewelry retailer in America according to the 2011 IR500 list. For two years in a row brides from The Knot have selected them as their Best of Jeweler. Diamond Nexus currently has two retail locations: their flagship store at Woodfield Mall in suburban Chicago, Illinois, and a second store at Mayfair Mall in Milwaukee, Wisconsin. In 2009 the company was named the official jeweler and crown maker of the Miss Universe Organization as part of NBC/Universal's "Green is Universal" environmental initiative.