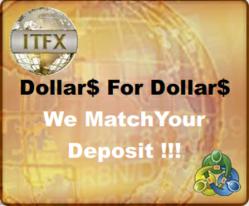 Hong Kong (PRWEB) May 09, 2012
InvestTechFX financial experts reported that on the Comdex division of the New York Mercantile Exchange, gold futures for June delivery traded at lower during most sessions, easing down overall.
Market participants were looking ahead to the outcome of the Federal Reserve's two-day policy-setting meeting for end of April 2012.
While the Federal Reserve is expected to reiterate its intent to hold U.S. interest rates near zero through 2014, forex currency traders will be seeking clues towards the bank's attitude on further quantitative easing measures; fx traders in the interim are hoping there might be some show of support for a third round of bond purchases to support the U.S. economy.
In the previous rounds of asset purchases by the Federal Reserve weakened the dollar somewhat and sent gold prices soaring to an all-time high per ounce in September 2011.
Moreover, gold can benefit from such an environment of easy money because of expectations that ample liquidity would put a damper on the value of paper currencies.
The forex precious metals rallied a 2012 high in late February after the Federal Reserve at the time said it would keep interest rates near zero until at least by the end of 2014.
Currently gold prices ended higher on average on the markets over the past couple of weeks as investors were relieved when a successful auction sent yields on the Dutch debt lowered a day after the government in the Netherlands collapsed in a crisis over budget cuts.
InvestTechFX additionally reported that gains were limited after an auction of Spanish short term government debt saw the country's borrowing costs almost double, while Italy's borrowing costs rose to the highest level since January after an auction of government bills.
Although gold's appeal as a safe haven is boosted during times of economic uncertainty, the euro zone's debt crisis has done little to bolster appetite for the precious metals in recent months which a weakening euro and stronger dollar have weighed on gold instead.
InvestTechFX offers the Meta Trader 4 trading tool as a means to trade commodities such as Gold, Silver and Oil as well as all six major currencies on a 0.5 PIP to variable spreads on mini and standard accounts with ECN options.
InvestTechFX software solutions deals with the Forex Market offering specialized Money Manager, IB and White Label services as well as many benefits including tight pip fixed spreads, leverage ranging from 1:100 to 1:500 to permit the use of scalping, hedging options and Expert Advisors or robot dealers.
InvestTechFX is a No Dealing Desk (NDD) and Electronic Communication Network (ECN) Forex Brokerage offering an industry leading 0.5 PIP on all 6 majors while trading with the MT4 platform.
In May of 2012 InvestTechFX has launched the new Power Matrix Account with unlimited Dollar$ for Dollar$ matching of deposits and a whole lot more to this account that no other brokerage will offer. For further details on account groups, spreads and trading options and featured promotions please visit http://www.investtechfx.com.