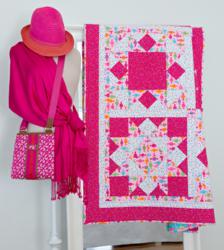 These dies make it very easy for quilters to create their favorite geometric block designs.
—Linda Pumphrey
Omaha, NE (PRWEB) May 08, 2012
AccuQuilt, international distributor of fabric cutting solutions for quilting and fabric crafts, announced the release of a new set of dies for the GO! and GO! Baby Fabric Cutters, specially designed to make geometric quilt block squares easier for quilters to piece. The line of dies is called "Hip to Be Square." With a GO!® Die Adapter, Hip to Be Square dies also can be used in the commercial AccuQuilt Studio™ Fabric Cutter.
"These dies make it very easy for quilters to create their favorite geometric block designs," said Linda Pumphrey, AccuQuilt national sales director. "Everyone knows one of the most difficult aspects of geometric designs is getting the seams precise. These dies, with seam allowances built in like most AccuQuilt dies, give you perfect pieces to make fitting corners easier than ever."
The Hip to Be Square die line includes nine different dies that can be combined together and with existing GO! dies to create classic 6", 8", 9" and 12" 4-patch and 9-patch blocks. Quilters also can combine GO! Hip to Be Square dies with existing AccuQuilt shapes to make a host of additional geometric designs.
"The new 8" Finished Quarter Square and 8" Finished Half Square Triangles are great for making blocks with large fabric prints and other dynamic fabrics quilters want to show off," said Pumphrey. Each die in the collection coordinates with an exclusive quilting pattern available from AccuQuilt.
All dies in the Hip to Be Square die collection are made with Two Tone™ Foam, an AccuQuilt innovation that makes it easier to see where to place fabric on the die board, which minimizes fabric waste.
AccuQuilt Hip to Be Square fabric cutting dies, along with the AccuQuilt GO! Baby® Fabric Cutter and GO!® Fabric Cutter, are available at local quilt and fabric retailers. Quilters also can purchase GO! fabric cutters and dies, along with the Studio™ Fabric Cutter, GO! die adapters, and hundreds of Studio™ quilting dies, by visiting http://www.accuquilt.com or calling 888.258.7913.
ABOUT ACCUQUILT
Headquartered in Omaha, Neb., AccuQuilt offers quilters, fabric crafters and retailers a premiere line of fabric cutters, dies, quilting patterns and other quilt and fabric cutting solutions that help quilters quickly and accurately cut shapes for quilting and fabric crafts. AccuQuilt also offers quilters a wide variety of rich educational resources to enhance their quilting experiences. Cutting with AccuQuilt® cutters is a natural evolution of fabric cutting methods. "First scissors…then rotary…finally…AccuQuilt®" for fast, easy, accurate fabric cutting. Visit AccuQuilt online at http://www.accuquilt.com
# # #