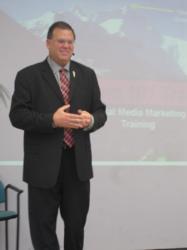 The problem with using Black Hat techniques is that eventually they will likely have their website banned by Google
Los Angeles, CA (PRWEB) May 07, 2012
Bill Ganz, owner of Total Social Media Solution for Small Businesses has recently announced the release of its new online training program which takes a unique approach to traditional marketing. This program utilizes an internet marketing strategy known as "white hat marketing" which is a safe and ethical means to market one's business on the internet.
"So many internet marketers and social media strategists use black hat methods to internet marketing." stated Bill Ganz in a recent interview. "The problem with using these techniques is that eventually they will likely have the website banned by Google, which is why we only use and teach ethical white hat techniques."
The Leaders OnLine training takes an approach of understanding how search engines work as well as social media sites, content sites, blogs, forums and a wide variety of online networks. The "Ethical White Hat Marketing" that the Leaders OnLine program utilizes helps companies understand how to set up many basic online networks to syndicate content based on ease and time efficiently.
The Leaders OnLine program offers a do-it-yourself program as well as a 2-day seminar which trains business owners, executive and entrepreneurs how to grow their business online easily and efficiently.
For more information about Total Social Media Solution, or to inquire about their white hat marketing techniques, visit http://www.totalsocialmediasolution.com/news
.
About Bill Ganz
Bill is considered one of the top advisers and implementers of corporate marketing in the United States using viral media as well as other methods on the internet. He has supported the marketing efforts for hundreds of Small to Medium size businesses as well as countless enterprise companies such as Epson, Nissan, Kenwood, Fender Music, Bosch, and Siemens. Ganz has recently completed a global world tour training businesses and company Executives and Owners worldwide. As the founder of MORE Media Group, Inc. and FastTrack Online Marketing, Ganz has recently focused on the development of new and practical ways to communicate rich multimedia experiences over the internet.