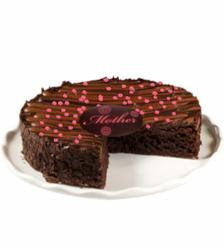 It's all about sharing, caring and making people happy…. Just like Mom would want!
New York, NY (PRWEB) May 11, 2012
"Mother's Day is all about being with and showing that special woman in your life how grateful you are for your upbringing, her love and friendship - Mom" said Joseph Dornoff from Bake Me A Wish!. For the men and women fighting overseas on behalf of the American people, that's just not a reality. Bake Me A Wish!, through its partnership with Soldiers Angels' is doing all that can be done to bring a soldiers as close to Mother as possible this May. Through the Operation: Birthday Cake program, select soldiers will have a Mother's Day Cake sent directly to Mother's door with a special video message from the soldier.
"We wish we could do more to bring Military Mom's and their sons and daughters closer together this Mother's Day," said Josh Kaye, president of Bake Me A Wish! "Just sending cakes isn't enough; we worked with Soldiers Angels to make it extra sweet and include a video message from the soldier to their mother. We won't be there to see the look on their faces, but can you imagine how wonderful that will be?"
Bake Me A Wish! calls upon the American people to help in the efforts to continually show support for America's military men and women throughout the year. With the purchase of a Mother's Day Freedom Cake, Bake Me A Wish! will donate a cake delivery to soldiers overseas on behalf of Mom. Each cake includes an edible, Belgian chocolate "Mother" plaque and includes a Mother's Day greeting card that let's Mom know a donation was made in Mom's name.
"We call it spreading the love three ways," Josh continued, "you feel good, Mom feels great and a soldier you don't even know will have an even happier birthday. It's all about sharing, caring and making people happy…Just like Mom would want!"
About Soldiers Angels
Soldiers' Angels is a non-profit organization that provides assistance to families of enlisted soldiers, continuing support for veterans and immediate response for families of the fallen. With more than 20 different teams and programs, the volunteer-led organization prepares care packages, personalized letters and comfort items to deployed American service members and their families to make a visible difference in their lives. Visit http://www.soldiersangels.org.
About Bake Me A Wish
Founded in 2004, BakeMeAWish.com is a premiere gifting service offering award-winning gourmet cakes. Each gift cake includes an imported Belgian Chocolate occasion plaque, Matching Greeting Card that can be personalized online and comes packaged in an elegant gift box. Cakes are priced between $25 and $99, including shipping, and can be sent overnight, nationwide. Giving back to the community we share is at the heart of each cake sent. Visit http://www.BakeMeAWish.com