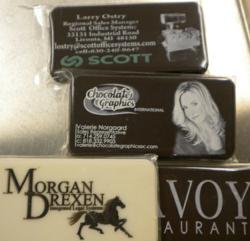 "Make a list of important things to do today. At the top of your list, put "eat chocolate." Now, you'll get at least one thing done today."
~Gina Hayes
Wellington, FL (PRWEB) May 08, 2012
Chocolate Graphics International announces embossed chocolate business cards. A unique touch like that is hardly ever forgotten. It's the ideal way to make a powerful and delicious first impression with prospects.Chocolate business cards, innovative, mouth watering and hand crafted chocolate with your own message, logo and/or photo. A great way to introduce any products and any company to new prospects while reacquainting with existing customers as well. Chocolate Graphics chocolate business cards will not only melt in clients mouths, they'll make clients like putty in ones hands.
Using only the finest tasting milk chocolate (semi sweet 60%), white chocolate, and a wonderful dark chocolate, Chocolate Graphics International uses a patent protected process to create raised embossed chocolate design that is far more advanced than just printing on chocolate. This makes it not only unique in its style, but a delightfully delicious treat for the taste buds.
"Chocolate Graphics® is such a unique product and nothing quite like it is offered in the US. Since the product's debut several months ago, it has been extremely well received and word of mouth orders are already coming in! The attraction to Chocolate Graphics® is the unique business concept and the fact that from a competitive standpoint, there are no other companies with the same process." Carol Webster - Chocolate Graphics International USA
Chocolate Graphics International is a company on the move. Growing from a small cottage based industry in 1999 to a global commercial venture today. Chocolate Graphics International is an Australian based company that provides personalized embossed chocolates. These chocolates make ideal gifts for weddings, promotions, the hospitality industry and for everyday occasions.
An Australian inventor originally conceived the Chocolate Graphics process in 1988. In July 1999 the patents, applications and manufacturing rights were purchased by John Taylor, an international businessman who had kick-started many entrepreneurial endeavors. Mr. Taylor introduced a strategic focus and inventive marketing strategy, rebuilt the technology, and revised the intellectual property, including registration of four new international patents.
Chocolate Graphics International is a private company with its US headquarters in Hendersonville, Tennessee under the leadership of Carol Webster. For more information please call 561-460-4738 or visit us online at http://www.chocolategraphicsus.com/kab.html