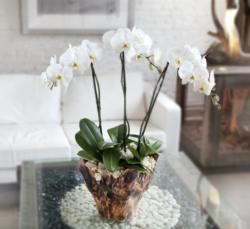 I want my orchids to shine like a stars and bring extreme visual satisfaction to most sophisticated eyes.
New York City, NY (PRWEB) May 07, 2012
For orchid designer Juliette Vassilkioti, the elegant and hardy flowers are "my models". Making an orchid plant look beautiful in any interior is her mission. As the founder of OrchidDiva.com, an online orchid shop serving New York City, Vassilkioti has launched a new service: custom-designed orchid arrangements for homes, spas, businesses and more.
Orchids, Vassilkioti explains, can integrate easily into the home or workplace with the right arrangement and setting. "No matter what is the style of the interior - modern or classic - we will create unique orchid plant arrangements to complement our clients' homes and businesses."
Vassilkioti and her staff work with their clients, assessing each interior and selecting the arrangements and display options that best showcase the flowers and complement the look of the interior design.
Colorful "models" get loving care
A former fashion model, Juliette Vassilkioti makes it a point to outfit her flowers with the style they deserve, using high-quality pots, artistic vases, natural river stones and other materials to "highlight the elegant lines of my models."
Orchid Diva's custom-design service includes not only the design and preparation of orchid arrangements, but their maintenance as well. While hardy and low maintanance, an orchid plant does respond to interior air flow and temperature. This is why care tips may vary from space to space.
"We offer free weekly check-ups on our custom created arrangements for the first month," says Vassilkioti. "During this period our floral professionals will provide care tips for our clients' orchids."
The ultimate goal of Orchid Diva's custom design service is to provide New York City with orchid plant options that meet every style. Notes Vassilkioti, "I want my orchids to shine like a stars and bring extreme visual satisfaction to most sophisticated eyes."
About Orchid Diva
Based in New York City, Orchid Diva accepts orders 7 days a week. In many cases, orders can be same-day delivered within the greater NYC area. Orchid Diva offers already made designs in it's online Orchid shop as well as custom design service with live orchid plants.
For more information about custom design with live orchid plants visit Orchid Diva online or give a call at 646-355-3550.