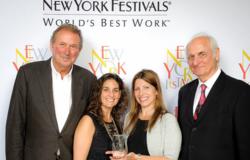 "Thank you to New York Festivals International Advertising Awards for the recognition, and thank you to the 100 million Americans for shopping Small Business Saturday," commented Laura Fink and Allison Silver of American Express.
New York, NY (PRWEB) May 07, 2012
New York Festivals® International Advertising Awards, now in its 55th year of honoring the World's Best Advertising™, announced its 2012 award winners on May 4th at the New York Show awards ceremony at the landmark New York Public Library Stephen A. Schwarzman Building in New York City.
The NYF Executive Jury selected one outstanding entry to receive the coveted title of "World's Best Idea®": Digitas and Crispin Porter +Bogusky were honored for their integrated campaign "Small Business Saturday" for client American Express. This new shopping day between Black Friday and Cyber Monday was originally launched by American Express in 2010 to support small businesses, help preserve neighborhoods, and fuel the local economies. American Express took Main Street mainstream with a multi-touch campaign that energized and engaged the small business community, their consumers, media and brand partners, and even local and national government officials using simple, sharable and powerful social actions. American Express executives Laura Fink, Vice President, Social Media/Small Business Saturday, and Allison Silver, Vice President, Brand accepted the award at last night's Gala.
"Thank you to New York Festivals International Advertising Awards for the recognition, and thank you to the 100 million Americans for shopping Small Business Saturday," commented Laura Fink and Allison Silver of American Express.
Daimler AG, was presented with the New York Festivals 2012 Advertiser of the Year Award for their commitment to creativity and innovation. The multinational automotive corporation, headquartered in Stuttgart, Baden-Württemberg, Germany, earned a total of 8 medals from 6 agencies worldwide with Daimler accounts.
The Network of the Year, a prestigious honor presented to the agency network that achieves the most awards and produces the finest caliber of work, was awarded to DDB Worldwide. DDB Worldwide was honored with a total of 14 medals representing 8 countries from their worldwide offices in this year's competition. Matt Eastwood, Chief Creative Officer, DDB NY accepted the award.
BETC Paris earned the Grand Trophy, Commercials, for "The Bear" for client Canal+. The spot shows vignettes of a film director on his medieval movie set, with scenes of an actress praising his skills, the director re-writing the script in his trailer, discussing special effects in a production meeting, and scoring the film. The humorous twist is that the director is a bear rug, who was inspired to become a movie director after years of watching movies while laying on the floor in front of a television. Agency creative credits include: Stéphane Xiberras, President/Creative Director; Eric Astorgue, Art Director; and Jean-Christophe Royer, Copywriter. "The Bear" also earned 4 Gold World Medals, 1 Silver, and 2 Finalist Certificate.
"Thank you to creatives JC Royer & Eric Astorgue, thank you to Matthias, the director, and the guys of Mikros in post production. I remember the line at the end of the Closet, for Canal plus too: "Never underestimate the power of a great story," said Stephane Xibberas, President/Creative Director BETC, Paris. I think that it's true!"
Publicis Amstelveen was honored with the Grand Trophy, Public Service, for "ALS Campaign" for ALS Foundation Netherlands. The award-winning Dutch campaign has ALS patients ask the viewer to join the fight against this merciless disease and lobby for more medical research for ALS. Their pleas are not for themselves but for others, because the patients will have already succumbed to the disease when the commercials are being aired.
"The ALS Foundation Netherlands and the participating patients who are still alive would like to thank the New York Festivals for the opportunity to raise awareness of ALS or Lou Gehrig's disease among an international audience. Because patients suffering from ALS are in the same position throughout the world and all possible efforts should be made to fight this merciless disease," commented Marcel Hartog, Executive Creative Director, Publicis Amstelveen on behalf of ALS Foundation, Netherlands.
The prestigious New York Festivals Hall of Fame Award was presented to legendary advertising icon Tom Burrell for his contributions to the advertising industry. Madeleine Moore Burrell, retired founder and president of Moore Creative, presented the award. The NYF Hall of Fame Award recognizes prominent industry luminaries whose personal excellence and extraordinary contributions have advanced the field of advertising, made a lasting impression on the creative community, and who continue to influence the profession in a significant way.
Each year, New York Festivals, in partnership with the United Nations Department of Public Information, appoints a UN panel to select public service work that exemplifies the aims and ideals of the United Nations. The 2012 UNDPI Jury honored the following entries: The Gold UNDPI Award was awarded to Baumann Ber Rivnay, Saatchi & Saatchi Israel for "Blood Relations" in Public Service Announcements: Integrated (Mixed Media) for client The Peres Center For Peace. Young and Rubicam Colombia earned the Silver UNDPI Award for "Kidrescue" in Public Service Announcements: Digital / Interactive for client Fundación Telefonica / Kidrescue. Cheil Worldwide, India was honored with the Bronze UNDPI Award for "Minus One Project" in Public Service Announcements: Integrated (Mixed Media) for client Samsung Printers.
Winning entries of the 2012 New York Festivals International Advertising Awards were selected by the NYF Executive Jury, an elite group of worldwide chief creative officers, through 5 rounds of live judging. Award winners were selected from a Shortlist chosen by the Grand Jury through 2 rounds of online judging. The Grand Jury is comprised of over 400 of some the world's most respected and award-winning chief creative officers, executive creative directors and industry professionals, representing the largest and most diverse jury of any advertising competition in the world.
The NYF 2012 Executive Jury and Grand Jury awarded a total of 43 Gold World Medals, 64 Silver, and 69 Bronze in this year's competition. In addition, 83 Finalist Certificates were awarded. Industry specialists on NYF's Grand Jury judged and selected winners in the following competitions - Public Relations/Brand Communications, Marketing Effectiveness, Hispanic Advertising and select Art/Technique/Technology categories. The Grand Jury awarded 10 Gold World Medals, 10 Silver, 10 Bronze, and 30 Finalist Certificates within those categories.
Germany earned a total of 9 Gold World Medals, followed by Australia and China with 7. The following countries were also honored with Gold World Medals: France 5; United Kingdom 3; USA 3, and Colombia 2. The Republic of South Korea, Costa Rica, Portugal, Romania, Sweden, and the United Arab Emirates each earned 1 Gold Medal.
All 2012 award-winning entries are featured at http://www.newyorkfestivals.com/worldsbest/
All press inquiries are welcome and should be directed to Gayle Mandel: gmandel(at)newyorkfestivals(dot)com. Ph: 1 212 643 4800
About International Awards Group: Founded in 1957, IAG organizes advertising and programming competitions for the following brands: AME Awards for Advertising Marketing Effectiveness; Midas Awards for Financial Services Communications; The Global Awards for Healthcare Communications; NYF Advertising Awards; NYF Television & Film Awards; and NYF Radio Programs & Promotions. Entries to each of the competitions are judged around the world by panels of peers in their respective industries. For more information, go to http://www.newyorkfestivals.com.