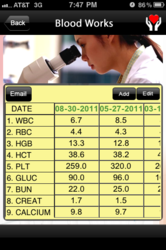 "I can show my doctor "My Blood Works" and he can see how my numbers are doing between visits." says Migdalia Reyes.
(PRWEB) May 10, 2012
This "Kidney Talk" interview is very unique in that Lori, Steve and Glen Ogle (creator of "My Blood works"App) all have kidney transplants. Toward the middle of the interview, all three compare creatinine levels. Creatinine level is how well the kidney is working and all kidney transplant patients watch this level all the time through blood tests. Listen in to hear their levels. Lori Hartwell has been doing "Kidney Talk" about every two weeks since 2006 and are very informative and covers many subjects for renal patients and can be heard on, http://www.renalsupportnetwork.com or a podcast on iTunes by searching "Kidney Talk."
Glen creator of " My Blood Works" App was interviewed recently to run thru the various functions of the App.The interview was added to the RSN website. He explains how it will monitor blood pressure, pulse, height and weight which have corresponding color graphs and the main screen shows the last week of values entered. When blood tests are entered they can be compared to previous tests with ability to track as many blood values a user will need. Medications are easy to enter with a large field for any details. Add as many medications as a user needs. Track all appointments, not just medical. Keep emergency phone numbers that dial from that screen and not mixed up in users contacts which can be in the hundreds. Keep medical events and stats listed in detail for later reference such as surgeries and dates, allergies, blood type and any other information user wants stored in "My Blood works" App. It will also save time when filling out medical paperwork.
Every renal patient should use RSN for information and while "Kidney Talk" in very educational, there is much more on the website. http://www.renalsupportnetwork.com
GOGLE LLC is dedicated to having an Application that not only tracks a users health through vitals and blood tests, it is a medical secretary and is the only way to keep up with ones health and have it all the time. We also created it to be a user friendly App that is easy for anybody to use.Visit http://www.mybloodworksapp.com for more information.