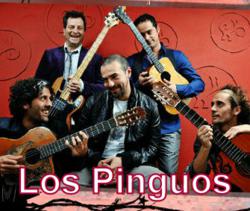 Santa Fe, NM (PRWEB) May 06, 2012
As part of its World Music series, The Lensic, a SantaFe.com Featured Business, presents the Argentine band Los Pinguos on May 18. A longtime favorite amongst world music fans, Los Pinguos are extensively touring the U.S. and Canada to promote their eighth album, "1111," which officially hit the streets April 18th. The new collection of songs captures the band's dynamic genre-bending musical range, showcasing a stunning ability to integrate traditional Latin rhythms into thoroughly modern compositions.
Longtime listeners will recognize the band's trademark infectious sound. The addition of a string quartet on four songs, lends a distinctive cinematic feel to those tracks, and the album as a whole. Many songs on "1111" have been road-tested over the last two to three years. In concert, the band reproduces their sound with precision, yet they retain that elusive raw energy live audiences have come to expect from Los Pinguos.
Hailing from cosmopolitan Buenos Aries, Argentina, Los Pinguos united in 1999, immediately winning over fans with their passionate live shows in clubs, bars and private parties throughout the capital. Making a leap of faith, the band journeyed to Los Angeles in 2001, intent on taking their career to the next level. Consistent performances for excited audiences at clubs like The Latin Lounge, The Knitting Factory, Key Club and others culminated in impressive gigs at Santa Monica's 3rd Street Promenade. These shows convinced the band of their ability to reach a wide and diverse audience. Spotted by a talent scout on the promenade, Los Pinguos soon found themselves winning the Grand Prize on the show "The Next Big Star" and were finally exposed to a national audience.
Since then, the band has recorded five albums and have played with such acts as Ozomatli, Taj Mahal, The Skatalites, The Neville Brothers, Pablo Montero, Paul Anka, Plácido Domingo, Yerba Buena, Charly Garcia and famed Argentinean rockers Bersuit Vergarabat. The band has been touring throughout the U.S. since their arrival in 2001 and in the recent years they have also played Mexico in 2008, Canada in 2008 & 2010, and Switzerland in 2008.
Ticket Info: Purchase Tickets Online. All Ages: $15 - $35 Student Nights tickets are available.
About The Lensic:
The Lensic is a performing arts center located in downtown Santa Fe, New Mexico. It opened in 1931 as a movie and vaudeville theater, operating for 69 years before closing in 2000.
The nonprofit Lensic Performing Arts Center re-opened in April 2001, following an ambitious renovation funded by a capital campaign that raised $9 million. The twelve-month renovation restored the theater's period architectural splendor and substantially increased its technical capabilities.
The Lensic is now a world-class, state-of-the-art, 821-seat performance venue that has quickly emerged as one of New Mexico's "treasures." It is a fine example of the power of community collaboration and commitment and serves as a vibrant cultural catalyst for Santa Fe and beyond, along with being a significant resource for New Mexico.
About SantaFe.com
SantaFe.com provides locals and visitors to Santa Fe alike the most current interactive platform for events, music, arts, business, dining and lifestyle. SantaFe.com is a division of Hutton Broadcasting, located at 2502 C. Camino Entrada, Santa Fe, NM 87507
Contact Information:
Scott Hutton
SantaFe.com / Hutton Broadcasting
http://www.santafe.com
(505) 471-1067 (Media inquiries only, please)