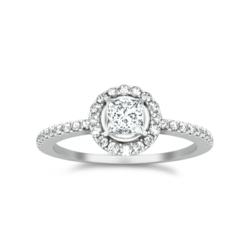 1 carat diamond ring has always been very popular with women, who prefer it as their choice of engagement ring.
Cockeysville, MD (PRWEB) May 08, 2012
Of all the different carat weights that women desire for, somehow the number "1" really stands out. Owning a 1 carat diamond ring as her engagement ring is desire of most of the women out there. This is one of the main reason, JewelOcean has launched an exclusive line of 1 carat engagement rings, which feature diamond rings with one carat total weight. The collection of this 1 carat diamond ring goes on sale starting 10th May onward. For a limited time, customers can save even more, as the collection would be on introductory sale price during the launch period.
The engagement ring collection is designed to feature different styles of rings. The collection would feature beautiful antique engagement rings with 1 carat diamond weight which are designed with distinct vintage look. These antique rings would specially appeal to those customers who are looking for a distinct, handmade crafted ring. The 1 carat engagement ring collection also features halo design rings, which customers can customize with different center diamond shapes, such as princess cut, round cut, pear cut or oval cut diamonds. For those customers who are looking for matching wedding ring sets, the 1 carat diamond ring collection features exciting line up of wedding sets, with 1 carat total weight, designed to utmost perfection and style. Customers who are looking for the classic solitaire ring designs would not be disappointed as the 1 carat rings collection features beautiful 1 carat solitaire engagement ring designs which are perfect for women who are looking for solitaire ring designs.
One thing which would be common between different styles and designs in this new 1 carat engagement rings collection at JewelOcean, is the inexpensive and affordable price, that these engagement rings would be available at. During the initial launch period, customers would be able to save even more, as limited diamond rings would be available on sale at extra discount prices.
Customers looking for different gold types would love to know that they can customize the entire collection to different gold colors. They can choose from white gold, yellow gold and even rose gold. JewelOcean manager, Mathew Bruno says that customization would be a key feature to the new 1 carat diamond ring collection, as customers would be able to design their own engagement ring to their individual preferences.
JewelOcean is jewelry manufacturing company, which specializes in engagement rings and bridal sets. By providing engagement rings at affordable prices, and excellent customer service, JewelOcean has received thousands of positive customer reviews and ratings. Customers are encourage to view the entire 1 carat diamond ring collection by visiting the JewelOcean.com website.