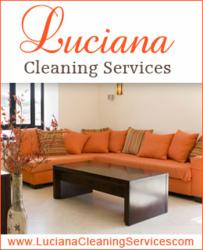 I think true family time is something that is at danger of extinction in all honesty. No one seems to care much about meeting at the dinner table for some fun family quality time – this can't be good, and I feel I want to fight against this
Laurel, MD (PRWEB) May 07, 2012
Luciana Cleaning Services announced today that they formally launched a new module on their website to communicate more effectively with their clients through a more social engagement in the form of the well know blog stream. "We hope to better engage with our clients, but more importantly we believe in a living a healthy life, and now a days that is so hard to accomplish for the everyday person, so we hope to help people make better decisions in their daily decisions as far as spending their time: avoid wasting valuable time is key in the twenty first century" says owner Luciana.
According to Luciana: "The world has changed so much over the past few years in the sense that we seem to be busier and busier, and have less time for things that should be valuable to anyone. Things such as exercising, sitting down with the kids to do homework, visiting grandparents, gardening, and even sitting down for dinner with everyone in the house at the same time, are no longer things of value. Even if you do manage to get everyone in the house to sit down at table for dinner, they are still connected to the internet or the social media world with their mobile devices."
"I think true family time is something that is at danger of extinction in all honesty. No one seems to care much about meeting at the dinner table for some fun family quality time – this can't be good, and I feel I want to fight against this," owner of Luciana Cleaning Services in Maryland continued.
Luciana Cleaning Services is a leading cleaning company based in Maryland serving the local market. You can reach Luciana at 240-988-7653