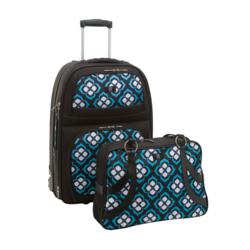 The quality, features and vintage inspired print make these really stand out in a crowd of your typical travel accessories.
Austin, TX (PRWEB) May 09, 2012
Mobile accessory company Nuo Tech LLC announced today the launch of the 'Perfect Travel Bag Ensemble' for tech-savvy women on-the-go. The new Chloe Dao for Nuo collection features an assortment of stylized travel cases ranging from carry-on-sized luggage down to an Attaché for the iPad, MacBook Air or ultrabook laptop to provide multiple coordinated options. The company and retail partners are offering promotions in time for Mother's Day and graduates.
The 'Perfect Travel Bag Ensemble'
The case collection offers an attractive Lotus-pattern for the woman who wants the style of a first-class designer label matched with durability for tough travel days. The Carry-on Trolley 21-inch and Satchel Two-Piece Set is ideal for travel and the fashionista on the go. The luggage stands-out in the sea of black bags on airport conveyor belts, making it easy to spot and eliminating the need to tie ribbons or other markers on the luggage. The ultra-chic ensemble comes complete with an assortment of sizes and options for tech devices, typically not available in other designer collections. The Perfect Travel Bag Ensemble is designed by Chloe Dao, the season two winner of Bravo's hit TV show, Project Runway. "For this collection I wanted to create something merging fashion and function to fit your everyday mobile tech and travel bag needs." said Chloe Dao. "The quality, features and vintage inspired print make these really stand out in a crowd of your typical travel accessories."
Promotions for Mom or the New Graduate
Nuo is offering shoppers a 30 percent discount and free shipping on orders of $50 or more at http://www.ShopNuo.com. Also, if shoppers 'Like us' on Facebook, they will be entered into a drawing to win a $50 gift card for a future purchase on http://www.ShopNuo.com and receive exclusive offers, new product launches, stories and more.
Nuo has partnered with select online retailers to launch many of their new products in time for Mother's Day and the graduation gift season. Retailers include eBags.com, Zappos.com and Kohls.com.
About Nuo
Nuo Tech designs industry leading carrying cases and accessories for laptops, tablets, travel, luggage and many other mobile technology products. We are committed to offering innovative and highly functional product solutions with a focus on fashion and style conscious consumers. Our bags range from classic messengers and protective sleeves to women's totes and exclusive designer brands that stand out in crowd. Drawing inspiration from fashion forward and tech savvy consumers as well as lifestyle and cultural trends, Nuo's passion is creating trendsetting products that are durable, simple, smart, and sophisticated. From our Eco-Friendly Collection to the Dao Chloe Dao for Nuo Collection from Project Runway Winner Chloe Dao for fashionista's on the go, we have the right bag for you. Show your colors, show your style with Nuo Designer Laptop Bags and Mobile Accessories. Learn more and shop online at http://www.shopnuo.com.
About Chloe Dao
After a long ten-month journey, Chloe Dao emerged as the winner of Bravo's Emmy nominated Project Runway 2 on March 8, 2006. Dao won the hearts of America with her mild honest demeanor, consistent display of technical skills, business savvy and creative talent. Dao's reputation for understanding women and their bodies landed her a contract with Dove as their national spokesperson for the "Sleeveless Ready" campaign. Dao reached the masses again in 2008 as she debuted on QVC with consecutive sell-out appearances with her line Simply Chloe Dao, exclusive to QVC. Also in 2008 her effortless style and modern sensibility led her to partner with mobile accessories and travel bag maker Nuo Tech to create a line of fashion forward mobile technology bags and luggage accessories. The Dao Chloe Dao by Nuo Collection is modern, contemporary and most of all fun. The line is available at select retailers nationwide including Staples. Even with the win of PR2, Dao continues to develop and grow her boutique's business in Houston. She hopes to open stores in other cities such as New York and Los Angeles. Follow Chloe on Facebook.