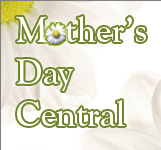 40 Ways to Celebrate Mom includes ideas that can create lifetime memories for Mom
San Francisco, CA (PRWEB) May 07, 2012
Mother's Day 2012 is less than a week away. Across America, millions of sons, daughters, dads and relatives are considering what they will do to ensure that this Mother's Day is Mom's best ever.
MothersDayCentral.com recently released their popular "Top 10 Mothers Day Gifts" list for 2012. But is ten ideas really enough? "No," said Doug Smith, one of the Web site's co-founders. "Identifying ten really great ideas for Moms is a start, but there's no way any 10 gift ideas can cover all the bases."
"So this year, in addition to our Top Ten list, we're offering our readers a broader array of ideas, covering a much wider set of tastes, interests and means. 40 Ways to Celebrate Mom includes a superb selection of gift ideas from our own staff, and all around the Web," Smith elaborated. "Plus, this guide also touches on family activities and surprises that kids can organize on their own - gestures that have the potential to create lifetime memories for Mom.
"We hope people can not only enjoy but really use 40 Ways to Celebrate Mom - The Perfect 2012 Mother's Day Guide!"
About Mother's Day Central:
MothersDayCentral.com, founded in 2006, has grown to become the leading site on the Web for all things Mother's Day. Mother's Day Central's site visitors, Facebook fans and Twitter followers explore a wide array of gift ideas, activities and outings, crafts, poetry, recipes, and everything needed to help families celebrate mom on her special day. The site's annual Ten Best Mother's Day Gifts list has become a favorite source of ideas for millions of Americans each year, and the site's hugely popular "History of Mother's Day" page is a top resource for those wanting to know more about the origins of this very popular holiday.