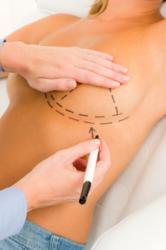 Gaining more breast without pain is best
San Diego, CA (PRWEB) May 08, 2012
Dr. Steve Laverson observes the most painful and difficult portion of recovery from breast augmentation, tummy tuck, and other cosmetic procedures is the first three days or so after the operation. Exparel® is the first long acting version of a proven, widely used local anesthetic, bupivacaine, and was recently approved by the United States Food and Drug Administration for infiltration of the surgical site during a procedure to keep the area numb, and diminish post surgical pain, for approximately three days. Clinical trials demonstrated that when Exparel® was injected into the area of surgery, patients experienced better post surgical pain control for days, and required less narcotics than patients who did not receive Exparel®. By decreasing narcotic use after surgery, narcotic related unpleasant side effects such as nausea, constipation, sleepiness, and abnormal mood should be less common. "The entire surgical experience will be improved, and return to work, play, parenting, and other activities should be quicker," says Laverson.
Conventional anesthetic injection during surgery only lasts several hours. Alternatively, anesthetic pain pumps infiltrate local anesthetic for several days, but the cumbersome apparatus requires maintenance of a catheter into the surgical site. Exparel® utilizes Pacira's proprietary Depofoam® drug delivery system, consisting of microscopic slowly dissolving vesicles that allow injected anesthetic to provide pain relief for up to 96 hours after surgery. To date, no adverse effects have been associated with the use of Exparel®. Dr. Laverson doesn't plan to use Exparel® for facial plastic surgery because these procedures are less painful, and because paralysis of facial expression for several days could be problematic.
Dr. Steve Laverson is a diplomat of the American Board of Plastic Surgery, and has managed the Feel Beautiful Plastic Surgery Center in North San Diego County since 1993. Areas of specialized expertise include aesthetic enhancement of the face, breast, and body. Dr. Steve Laverson and Feel Beautiful Plastic Surgery have no financial interest in or professional association with Pacira Pharmaceuticals, Inc.