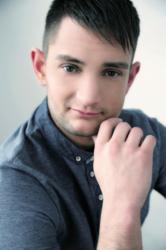 A sucessful model has to be physically fit
London, UK, 7th (PRWEB UK) 7 May 2012
Keeping in shape is a 'model must' say the commercial photography and model advice company at the centre of the modelling London.
It's time to meet the new kid on the block at http://www.lamodelondon.com. Philip Andrew is the latest model recruit and La Mode's newest modelling portfolio, a tool for a model to help themselves in self promotion - and it goes live today.
'Philip takes pride in his appearance and works hard to keep himself in shape,' says Helen Smith, director at La Mode London. 'He maintains that toned and athletic look which will certainly find him a unique niche within the industry.'
The experts at La Mode launch modelling portfolios to help an aspiring model begin their career through self promotion. They specialise in providing all the latest up-to-date modelling advice, are on hand with the team of experts to gently push a model in the right direction. 'We pride ourselves on our honest and open advice', says Helen. 'We think Philip will certainly have a good chance with his unique appearance. Fitness models are always wanted for TV advertising, promotional and editorial work and if he can maintain his athletic appearance, he will stand out from the crowd.'
Philip enjoys high impact physical training in a variety of different sports, which La Mode think will certainly stand him in good stead if he found work within the fitness industry.' A model not only has to look the part, but particularly with promotional modelling, a model could be required to test out physical training equipment for example,' Helen continues, 'The fact is a successful model has to be physically fit. Modelling is not all about catwalk and catalogue work. It is high impact in itself and fitness is very important to help with stamina.' She goes on to explain,' some modelling jobs can make a day very long, especially if you are not at the peak of your fitness. It's essential to be fit and healthy to avoid injury but also to prove you have got what it takes to promote the product.'
Promotional modelling is all about demonstrating a particular product for a company, perhaps in one of the week long shows which take place within exhibition halls, La Mode explain.
Philip is interested in many different aspects of modelling industry and he has always been told he has got what it takes to achieve his goals. Modelling is an ambition he felt he must follow. Inspired by Peter Andre, he says,' I admire the way he juggles his career and his family life, so that both receives his attention whilst keeping a professional image. I like the way he portrays this good role model.' He goes on to add,' I am also inspired by the actors Jason Statham and Nicholas Cage. Both these actors can adapt their roles to suit the character scripts and are successful men in the building industry'.
When asked why he became a model, Philip says,' I want to become a model to gain life experience in a career I feel passionate about. This dream will give me the opportunity to meet many people from various walks of life and fulfil my aspirations.'
As another modelling portfolio and accompanying website goes live today, visit http://www.lamodelondon.com for more modelling dreams come true.