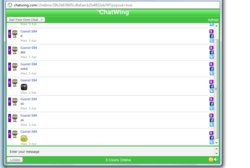 Salt Lake City, UT (PRWEB) May 07, 2012
Online entrepreneurship is a major trend today, as proven by numerous websites and blogs created for this premise. Some were even using new crowd-sourcing techniques in order to get the most of their marketing efforts. Chatwing's developers have decided to help these entrepreneurs by introducing a website chat tool capable of providing efficient communication. Chatwing also operates on a freemium business model to give leverage to everyone.
Chatwing may be similar to other chat boxes out there, but it has a stronger punch when it comes to connection and ease of access. Chatwing's developers are also working day and night to ensure that Chatwing's connection speed is maintained properly. As a bonus, the Chatwing shout box allows users to log in using their Facebook or Twitter accounts. This makes information exchange easier.
For crowd-sourcers, the Facebook integration is something worth seeking for. Users who logged in using their Facebook accounts will have their usernames clickable. In this way, people can send them chatrooms invitations easily. This is also useful for people who are finding new members for their Facebook groups. For online entrepreneurs, on the other hand, the Chatwing chat box serves as an extension of customer service. Through the chat widget, guests can post questions and inquiries about a product or service.
Chatwing is also meant to raise the online visibility of a blog. This is possible by turning the blog into an active chat lounge, engaging many people at the same time. Installing Chatwing for any blog takes only simple steps. First, the user must register his blog's domain name and set up an official account. After that, customization takes place. The user can modify the height, width, color, and title of the chat box. Once all steps are completed, Chatwing will now generate the needed HTML code. After embedding, Chatwing will go live in just few seconds.
About Chatwing.com
Chatwing.com has developed live chat widget software for websites and blogs. It caters to different online communities due to its high rate of connectivity. Everyone can create a customizable live chat box feature in 1 minute or less. Users have the ability to customize the size, color, and fonts of the chat product. The ability to chat via social media accounts such as Facebook and Twitter enable Chatwing to offer a personal and unique real-time experience to all sites. Chatwing is 100% free and very easy to use.