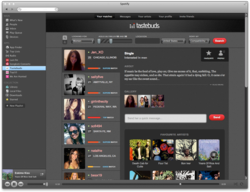 The Tastebuds Spotify app is a game changer - you're instantly shown people you have things in common with and can share music with them in real-time, without ever having to leave Spotify
(PRWEB UK) 10 May 2012
Music dating site Tastebuds.fm today announces the global launch of their new Spotify app, helping you connect with new friends or potential dates with similar music taste.
The app seamlessly integrates with Spotify, scanning a user's most played music and instantly showing them people nearby who have similar tastes. Users are able to browse their matches, listen to their matches' favourite music and send them a quick message if they catch their attention. The app also allows users to share mixtapes with each other using Spotify's in-built playlists.
"Tastebuds has been successfully connecting people using music for a number of years and we're proud to bring our unique matching experience to the Spotify platform" said Alex Parish, Co-founder of Tastebuds. "Spotify and Tastebuds both believe that music is the most effective way of connecting people. In fact we've found that you're far more likely to get a response to a message you send on Tastebuds than any other dating site - 43% of first messages get a reply".
The music you listen to can say a lot about you - Tastebuds previously found that Coldplay fans are least likely to go all the way on a first date, and the Canadian grunge-rock group Nickelback are the number one music turnoff. Thankfully users are able to remove any guilty pleasures from their profile once they've created an account.
"Traditional dating sites force you to complete reams of forms and personality questionnaires, wasting your time when all you want to do is starting meeting new people. The Tastebuds Spotify app is a game changer - you're instantly shown people you have things in common with and can share music with them in real-time, without ever having to leave Spotify." comments Alex Parish.
For those music fans currently in a happy relationship the Spotify app also lets you search for people who are looking to make new friends.
The Tastebuds app is now available on Spotify.
About Tastebuds
Tastebuds helps you meet people who share your love for music. Over 1 million messages have been sent via the Tastebuds.fm website, and the service already boasts two marriages and plenty more engagements. The startup has attracted favourable press from the Guardian and NME among others, as well as the thanks of music fans everywhere.
The site was founded by two musicians from London, UK: Alex Parish and Julian Keenaghan. Both founders are members of the band Years Of Rice And Salt.
Tastebuds is headquartered in London, UK, and was incorporated in November 2010.
Further Information
For more information or to arrange interviews with Tastebuds staff or users, please email alex@tastebuds.fm
High resolution images of the Tastebuds Spotify app are available for download here
Follow the site on Twitter @tastebuds