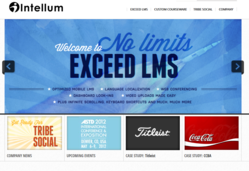 From the start, our goal has been to manage learning better than anyone else and to eliminate the frustrations normally associated with deploying and maintaining critical enterprise software
Atlanta, GA (PRWEB) May 07, 2012
Intellum, a privately held technology company based in Atlanta, unveiled a rebranded and enhanced version of its proven learning management system at the annual ASTD conference in Denver. Exceed LMS, now in use by approximately 400 companies worldwide, goes beyond traditional LMS functionality and provides a technically visionary learning platform for companies looking to solve today's complex learning challenges in a cost- and time-efficient way.
Unlike many of the market's traditional LMS solutions, Exceed was built exclusively for the web with a user interface similar to the web-based applications learners use every day – such as Facebook and Salesforce. The system's robust functionality, rapid implementation, and straightforward pricing make it an optimal choice for companies seeking to replace current LMSs, extend training to customers and partners, or serve geographically diverse global learning audiences. The system's highly robust, real-time reporting makes it an excellent fit for companies with complex reporting and compliance requirements.
"From the start, our goal has been to manage learning better than anyone else and to eliminate the frustrations normally associated with deploying and maintaining critical enterprise software," said Chip Ramsey, president and CEO. "The innovations we've brought to Exceed LMS illustrate our passionate commitment to the LMS market. We don't accept status quo. With this the latest version of Exceed, we hope to change people's expectations of what this market should offer."
Following are examples of enhancements included in this release:

Language localization by individual users. Many LMSs give customers the ability to localize the LMS experience for groups of users. But Exceed makes it possible for every user to choose his or her language. This incredible flexibility is just one of the many innovations that make Exceed an optimal solution for global workforces.
Automated video uploading. In this age of YouTube, more and more companies are incorporating self-produced video into training programs. Yet, uploading video to most LMS systems can take a tremendous amount of time – especially when dealing with video from a variety of devices. Exceed streamlines the upload and delivery of video without third-party software or conversion steps. Users can upload video files of any size and format; Exceed will also automatically optimize the video for playback on mobile devices.
Integration with GoToMeeting and GoToWebinar. With Exceed, customers can easily track and manage training webinars and workgroup collaborations conducted with these two services. No special set up or customization is required.
The new version also brings enhancements to the system's already robust reporting functionality. For instance, the new manager dashboard shows a summary of training completions for employees, as well as a compliance meter for an at-a-glance view of where a team is in terms of required training. Exceed offers a portfolio of more than 70 off-the-shelf reports, which can be used as is or customized, as well as the ability to create real-time or scheduled queries (simple to complex) on all database items.
"We've been a long-term user of Intellum's LMS and have benefited from the company's track record for innovation and service," said Brent O'Bryan, vice president of learning and development for AlliedBarton, the largest American-owned security services company. "The system is the foundation for the AlliedBarton EDGE®, our multi-faceted learning initiative. And because of its straightforward integration with our compliance tracking system, we're also able to manage the diverse and complex training requirements for security officers across all states, industry types, and contracts." AlliedBarton was recently recognized by Training Magazine as one of the top 125 organizations excelling in employee development.
For more information, visit http://www.intellum.com or email jgilley(at)intellum(dot)com.
About Intellum
Intellum has been quietly innovating corporate learning management since its founding in 2000. The company is headquartered in Atlanta and privately held. In addition to Exceed, its SaaS-based learning management solution, the company also offers comprehensive services for custom course development and more than 20,000 off-the-shelf courses from leading content providers such as MindLeaders, 360 Training, and WeComply.
Customers include AlliedBarton Security Services, Air Serv, Akron General Medical Center, Equity Office, Facebook, Federal Reserve Bank of Boston, G4S/Wackenhut, Iron Mountain, LPL Financial, MarketStar, Monster.com, MWV, Scientific Games, Snyder's Lance, State of Louisiana, Titleist, Volkswagen, Waffle House, and Western Digital.