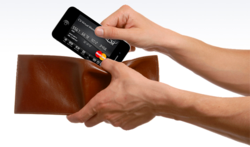 It is extremely important to have a strong portfolio in a variety of markets," explained Keith Stone, CSI President and CEO
Bonita Springs, FL (PRWEB) May 08, 2012
CSI Enterprises Inc., a company with a rich history of delivering one-of-a-kind corporate financial products, is pleased to announce their Director of Products, Jason Kolbenheyer and Vice President of Operations, David Disque will demo the innovative CSI globalVCard mobile app at the upcoming FinovateSpring 2012 show in San Francisco May 9.
CSI globalVCard is a revolutionary payment method for any size business or corporation. It allows users to create single or multi-use virtual credit cards with custom purchase restrictions easily through their iPad, iPhone or other smartphone device. Users have peace of mind knowing their online or e-commerce transactions are safe due to enhanced security features offered by the program.
"It is extremely important to have a strong portfolio in a variety of markets," explained Keith Stone, CSI President and CEO. "We have received a great response following the release of globalVCard and we want to ensure that it is nothing shy of our other innovative business payment solutions we have offered for over two decades."
CSI Enterprises Inc.'s attendees include Chief Executive Officer, Keith Stone, Vice President of Operations, David Disque, Director of Products, Jason Kolbenheyer and Ryan Smith, Director of Product Development.
FinovateSpring 2012 is a two-day showcase of the newest financial and banking technology innovations from leading established financial institutions and new startup companies. Last year, a record number of 850 leading financial executives, venture capitalists, and industry analysts were in attendance. FinovateSpring offers a unique and powerful platform to establish new customers, strategic partnerships, and press coverage. Referred to as the "Super Bowl" for online personal finance professionals by the Wall Street Journal, FinovateSpring 2012 promises to be a groundbreaking event for all that attend.
For more information on CSI globalVCard please visit, http://www.globalVCard.com.
CSI Enterprises, Inc. provides a specific line of controlled financial payment products including business fleet fueling/maintenance payment cards, a corporate virtual payment and card solutions for corporate purchasing, travel and entertainment spending. Today CSI and its products operate in all fifty states including Canada, Mexico and the Caribbean.