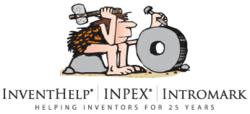 Pittsburgh, PA (PRWEB) May 11, 2012
InventHelp®, America's largest invention submission company, announces that one of its clients, an inventor from Illinois, has designed a device that could quickly and easily clean up pet feces. This invention is patented.
The "Dog Poop Grabber Bagger" would grab and then contain the dog's feces conveniently, and could prevent the hassles and frustrations of using hands to bag the feces. Portable and easy to use, the bags would be easy to seal, safely containing the germs and bacteria associated with pet feces.
The device would feature a handle, pole and a claw. The handle would be used to keep the container closed and zip up filled bags. The handle could include an open/lock button, a spring-loaded trigger and a wristband. The telescopic pole would feature a clip for attachment of used dog bags, and the pole would contract via a spring to half the size for convenient carrying. The claw would include prongs on the outside to snag the bag and a refillable bag container would be located directly above the claw and would include a door to add new bags. To use, the pole is extended and the handle is squeezed to open the claw and released to close the claw over the feces. The feces is picked up and enclosed into the bag, zipped closed and then removed. The new bag would then be pulled through the grabber.
"The current method of bagging feces can be unsanitary and messy," said the inventor. "I designed my invention to scoop up the dog feces and deposit it into a bag for a clean and easy disposal."
InventHelp® is attempting to submit the invention to companies for review. If substantial interest is expressed, the company will attempt to negotiate for a sale or royalties for the inventor. For more information, telephone Dept. 10-CCP-102 at (800) 851-6030.
Manufacturers interested in reviewing additional inventions and new product ideas can contact InventHelp's marketing partner Intromark by filling out an online request to review new product ideas here.