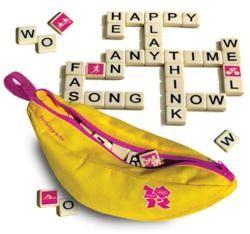 Providence, RI (PRWEB) May 09, 2012
Winning Moves UK Ltd has announced the launch of a London 2012 edition of the word game Bananagrams. The London 2012 version stays true to the classic game while including five additional colored "joker" tiles featuring various Olympic sport pictograms.
Bananagrams is a fast and fun anagram tile game that requires no pencil, paper or board. It comes in a small portable banana-shaped pouch and is perfect addictive play for kids age seven to 107 at home or on the go. Players race against each other to build crossword grids and use all their letter tiles.
The London 2012 edition of Bananagrams, (distributed by Winning Moves UK Ltd), will be available Spring 2012 for $14.95 at Target, select independent retailers.
All US orders should be placed through Bananagrams by calling: 401-781-9649 or email: sales(at)bananagrams(dot)com.
For Further Information:
For further press information, product details, images and review samples, please contact
Judee Cohen for Winning Moves – judithdeecohen(at)gmail(dot)com, 917-721-0663