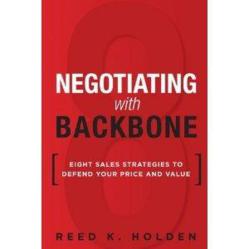 This book delivers practical negotiating advice to empower sales with the backbone needed to stop leaving money on the table and level the playing field with procurement - Carolyn Holden, President of Holden Advisors
Concord, Massachusetts (PRWEB) May 08, 2012
Holden Advisors, a leading pricing and sales effectiveness consultancy, today announced the release of its ground-breaking book, Negotiating with Backbone: Eight Strategies to Defend Your Price and Value (FT press, 186 pages, $29.99). This book is an essential guide for sales professionals who want to level the procurement playing field, halt incessant demands for price concessions, and get paid what their product is worth. Every time, with every account.
"At Holden Advisors, we believe that the moment of truth for pricing's success happens in the field, when the salespeople negotiate with customers." said Carolyn Holden, President of Holden Advisors. "The book delivers practical negotiating advice to empower sales with the backbone needed to stop leaving money on the table and level the playing field with procurement."
In Negotiating with Backbone, author and world-renowned pricing and sales strategist Dr. Reed K. Holden offers a complete playbook for "re-leveling" the playing field, restoring your pricing power, fighting back against ruthless procurement organizations—and winning! Holden reviews how customer buyer behaviors and the procurement function have permanently transformed the sales process and why "conventional" selling is getting even tougher. Next, he shows how to systematically anticipate and respond to each of procurement's most sophisticated traps, gambits, and tricks. Negotiating with Backbone brings together actionable best practices for strengthening customer relationships and selling with tangible value. The book will be available at Amazon.com and Barnes and Noble in late May.
To reinforce sales advice in the book, Holden is launching a new Sales Effectiveness consulting and sales training practice to align the entire sales organization around sustainable pricing power in customer negotiations.
"This book provides a solid foundation for our new Sales Effectiveness practice," said Chris Provines, Vice President, Pricing and Sales Effectiveness, a newly defined practice for Holden Advisors. "Negotiating with Backbone, combined with our new practice, tie together needed pricing expertise and negotiations know-how to arm sales with the tools and confidence to knock down procurement demands for price concessions. Clients who have been trained in our Negotiating with Backbone methodology see immediate profitability improvements, and sales people are amazed to see the situations they face every day outlined in our sales strategies."
About the Author
Dr. Reed K. Holden (Concord, MA), CEO/Founder of Holden Advisors, is a world-class pricing and sales expert who helps clients build go-to-market strategies to drive price leadership, selling backbone and profitable growth. Dr. Holden specializes in helping sales organizations avoid the Procurement Buzz SawSM by implementing strategies to recognize and counter margin-reducing buying tactics. With Mark Burton, he wrote Pricing with Confidence: Ten Ways to Stop Leaving Money on the Table, one of the top executive books in the pricing space.
About Holden Advisors
Holden Advisors increases clients' revenue and profits by leveraging the financial value of an offering in pricing strategy and process, so empowering sales people to capture the full profit potential while confidently defending prices. Our team delivers global pricing strategy, analysis, processes, and backbone-building sales effectiveness training that drive real impact straight to the frontline of the customer buying experience. For more information on how to build backbone in your sales organization, please see http://www.HoldenAdvisors.com.