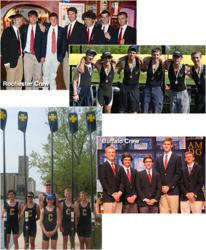 Our schools share a common philosophy - to be "Men for Others." We can't think of a better way to practice that philosophy.
Buffalo, NY (PRWEB) May 22, 2012
As Western New York sports rivalries go, few have been as competitive as Canisius High School and McQuaid Jesuit High School crew teams. The two programs have consistently ranked among the best crews in the nation and have collectively earned dozens of awards – often facing one another in the battle for Number One. But this summer, both crews will put their competitive differences aside and join forces as Row For The Cure to raise funds to help cure Juvenile Diabetes by rowing the Erie Canal together.
See Row For The Cure Video at http://www.youtube.com/watch?v=kZdB3rlRAFk&feature=youtu.be.
Starting at the UB Boathouse on Tonawanda Creek on June 14, McQuaid Jesuit crew members Cameron Pizzo, Greg Klumpp, Loudon Blake, Andrew Dardaris, Tommy Davis, Steven DiFiore and Grant Gifford will row their own boat alongside Canisius crew members Reid Yankowski, Jack Ruh, Mark Hirschbeck, Jack Sardinia, Sam Hausmann and Owen Ogiony during an eight-day, 340-mile journey down the Erie Canal. Supervised by Canisius High School Rowing Club Head Coach Tom Flaherty, who will be following in a motorboat, the crews will row an average of more than 42 miles per day until they reach Waterford on June 21.
"It's inspiring to witness two rival crews, fierce competitors, shake hands and work together for a common goal," said Flaherty. "Their teamwork transcends good sportsmanship; these young men understand what is truly important in life and are willing to go above and beyond the call of duty to make a positive difference and help cure a terrible disease. I am proud to have the opportunity to watch such great kids take on such an incredible challenge for an important and selfless cause."
McQuaid Jesuit High School Rowing Club Head Coach Brendon Evans is likewise proud of his student athletes.
"Rowing the length of the Erie Canal in a week is certainly an ambitious undertaking, but it is a great opportunity for the boys to do something special and memorable for an excellent charity," said Evans. "We are very excited to get started."
The student athletes are no strangers to good deeds. Yankowski helps support and assist Somali immigrants in Buffalo, Ruh helped build a Habitat for Humanity home in Florida, Sardinia and Hirschbeck recently returned from a two week trip building a road in a rural Dominican Republic village and Hausmann and Ogiony have volunteered as a ski instructors for physically and mentally impaired children and adults at the Lounsbury Adaptive Ski Program. Pizzo mentors elementary school children in STEM education, Klumpp has undertaken a variety of environmental restoration projects, Blake has participated in Habitat for Humanity, Dardaris has done work to benefit troubled youth, Davis and DiFiore are volunteer rowing instructors and Gifford is a volunteer counselor for the YMCA.
"When you have rivals that are as passionate about rowing as your own crew, you appreciate who they are despite wanting to beat them," said Yankowski. "We've gained even more respect for the McQuaid crew knowing they're going to join us in raising funds to help fund a cure for Juvenile Diabetes, and I look forward to working together with our friends toward a common goal."
"McQuaid Jesuit and Canisius have the same mission, to go forth and serve your community," said Gifford. "I'm honored to have the opportunity to do just that by helping raise funds to cure Juvenile Diabetes."
Row For The Cure is sponsored in part by The Hamburg Music Festival, Millennium Funding, The Village Glen, Northtown Automotive Companies, Keltic Financial Services/Commercial Insurance Consultants, Winfield Marina, South Towns Tennis Club and Danza & D'Arata of Buffalo and Party City, Paradigm Environmental and Ramsey Constructors of Rochester. It will begin June 14 at Tonawanda and end June 21 at Waterford, with potential stops including Clarkson, Palmyra, Weedsport, Brewerton, Marcy, Fort Plain and Scotia.
See Row For The Cure Video at http://www.youtube.com/watch?v=kZdB3rlRAFk&feature=youtu.be.
Help Cure Juvenile Diabetes By Sponsoring The Erie Canal Rowers
Juvenile Diabetes is a lifelong and life-threatening autoimmune disorder that strikes over 15,000 children every year – or 40 per day. Over three million Americans have Type I Diabetes, which is treated with insulin and can cause complications such as kidney failure, blindness, nerve damage, heart attack and stroke. Sponsorships from private individuals and companies are needed for research to treat and ultimately cure this disease.
Individuals are encouraged to sponsor the Erie Canal rowers by going online to http://bit.ly/rowcanal. All proceeds go to the Juvenile Diabetes Research Foundation to develop treatments and find a cure for juvenile diabetes. Corporate sponsors are asked to contact Tim Sardinia at 716-206-4320 for more information.
Juvenile Diabetes Research Foundation was founded by the parents of children with Type 1 Diabetes. JDRF's mission is constant: To find a cure for diabetes and its complications through the support of research. Since its founding in 1970, JDRF has awarded more than $1.6 billion to T1D research, including $116 million in FY2011. More than 80 percent of JDRF's expenditures directly support research and research-related education. Past JDRF research efforts have helped to significantly improve the care of people with this disease, and have expanded the critical scientific understanding of T1D. JDRF will not rest until T1D is fully conquered. For more information please visit http://www.jdrf.org.
Media Contact: Maritza Ruh
716-310-9666
mruh2(at)aol(dot)com