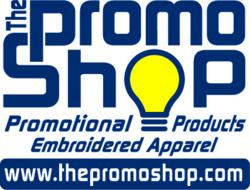 The right promotional product can be the right tool for successfully marketing your company!
(PRWEB) May 11, 2012
The Promo Shop, a Georgia Promotional Products company, has served businesses with promotional event planning and marketing since 1997, with time tested promo products for their clients. The Promo Shop newly revised website helps companies focus on tradeshow and event marketing with just the right give away. The ease of use and selection created by the new website format is an ideal selection tool for just the right promotional products to help ensure success of a business's tradeshow and or corporate event.
John Gallagher, CAS (President of The Promo Shop) says; "Make your company stand out with a hot tradeshow event item that will be memorable and long lasting sales message." Tradeshow event are important part of the sales cycle for many businesses. "The right promotional product can be the right tool for successfully marketing your company," Gallagher adds.
The Promo Shop website now provides site visitors hundreds of products to consider with pricing immediately available to save time and allow companies to comply with their own advertising budgets. Free samples can also be provided if needed. The goal of this Atlanta Promotional Product Company is to simply take the stress out of tradeshow and event planning.
One of the industry's top authoritative sources on the value of tradeshow event items PPAI; has extensive information about the impact of tradeshow event items. Companies have longed used products such as: pens, travel mugs, desk accessories, first aid items and tradeshow booth components such as table covers. These are all great but The Promo Shop has much more to consider than the just the basics.
About The Promo Shop:
President and founder, John Gallagher, was president of the promotional industry regional association- GAPPP for 2 years and a Board member for 4 years. Whether it's for a business, school, sports group, or any other type organization; The Promo Shop has industry specific solutions for event marketing through case studies. coordinate and decorate custom apparel, accessories or other promotional items, to make a great impression now and well into the future.
To learn more about The Promo Shop, visit their website at http://www.thepromoshop.com or call at 800-322-9882. If you're looking to create top-of-mind awareness this is their main focus. They can custom create or imprint your logo or message on the right promotional product that is memorable and best of all long lasting. So visit the site today and begin planning your next event.
This release was written and submitted by Click Ready Marketing an Atlanta Search Marketing Agency