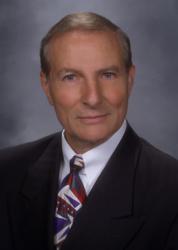 Minneapolis, MN (PRWEB) May 08, 2012
Phillip C. Richards Inducted into Securian Financial Group's Hall of Fame
Phillip C. Richards, Chairman and CEO of North Star Resource Group, has been inducted into the Securian Hall of Fame, commemorating his significant contributions to the values, practices, culture and success of Minnesota Life Insurance Company and Securian Financial Services, Inc.
In 1969, Richards acquired North Star Resource Group which has received the prestigious Master Firm Award by GAMA International every year since 1988. He was inducted into the GAMA International Hall of Fame in 2005, and is the only firm leader in the world to have received the International Management Award from GAMA International every year since its inception in 1972. In 2007, Phil was named recipient of the 66th annual John Newton Russell Memorial Award, the highest honor in the insurance industry from The National Association of Insurance and Financial Advisors.
Richards is an Adjunct Professor Emeritus for the Carlson School of Management at the University of Minnesota and former Adjunct Professor at Central University of Finance and Economics in China. He is four-time Chairman of Securian's National Advisory Board, served on the Executive Board of Directors for the Minnesota Council for Quality, and is Past President of GAMA International (2002-2003). He is an arbitrator for the Better Business Bureau and a GIFT Faculty Member, is a Past Chairman of the Board of Directors of the Minnesota/North Dakota Better Business Bureau; and served on the Board of Directors of the Arizona Quality Council. He currently serves on the Board of Trustees for The American College in Philadelphia. In addition, he is a past Chairman of the LIFE Foundation and currently serves on the Mayo Clinic of Arizona Leadership Council as well as the treasurer of the Arizona Heart Foundation's Board of Trustees. He chairs the Scott Richards North Star Charitable Foundation which receives 10% of North Star's profits annually.
Richards has been a featured speaker in over a dozen countries on topics including strategic planning, leadership, and alternate distribution systems in the financial services industry in the 21st century. He has addressed the annual meetings of over 100 companies; was a main platform speaker at the National GAMA International LAMP Meeting in 1998 and its Canadian counterpart in Toronto in 1999 and 2012; a main platform speaker in Singapore, Taipei and Manila in August 2000; and a main platform speaker at the Asian Pacific Conference in Bangkok (where he co-founded GAMA Thailand) in 2001 and 2010 and in Singapore in 2011; Crete, Greece in 2002; Sidney, Australia in 2005; Shanghai and Beijing, China for 4 years and again in 2006 as a lecturer at Beijing University and Shanghai University for Finance and Economics. He was a main platform speaker for MDRT in Vancouver in 2010, Dublin and in Ireland in 2012.
About North Star Resource Group
North Star Resource Group is a Minneapolis-based financial services firm that helps individuals and businesses create, preserve and protect their wealth. The firm has offices in twelve states, and through its 200 financial advisors work to provide financial security for individuals and businesses in the form of fee-based financial planning, life and disability insurance, retirement strategies, investments, long-term care and employee benefits. North Star Resource Group is ranked the 3rd largest privately held financial services firm in the nation, (GAMA International, December 2010). For more information, visit http://www.northstarfinancial.com.
CRI Securities, LLC - Securities and Investments | Securian Financial Services, Inc. – Variable Products and Securities, North Star Resource Group offers securities and investment advisory services through CRI Securities, LLC and Securian Financial Services, Inc., Members FINRA/SIPC. CRI Securities, LLC is affiliated with Securian Financial Services, Inc. North Star Resource Group is independently owned and operated. 2701 University Avenue SE, Minneapolis, MN 55414. 612-617-6000.
Media contact:
Jean Tate, Director of Marketing
Jean.tate(at)northstarfinancial(dot)com
612-617-6126
498521/DOFU 5-2012