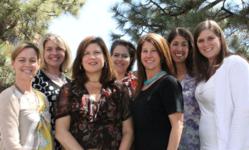 Building an integrated communications program from scratch requires a diverse set of skills and a truly collaborative effort.
Denver, CO (PRWEB) May 07, 2012
An integrated national communications team from Farm Credit and InView Communications was recognized as PR Team of the Year at Thursday's Public Relations Society of America (PRSA) Colorado Chapter Gold Pick Awards ceremony. The team is comprised of Farm Credit's Leigh Picchetti, Margaret Fogarty, Christina Bowen, and Stacey Trujillo; and InView Communications team members Carey Madsen, Diane Amdur and Maria Miller.
"Building an integrated communications program from scratch requires a diverse set of skills and a truly collaborative effort," said Leigh Picchetti, senior vice president, communications for Farm Credit. "Together, we implemented the most robust communications and branding program ever undertaken in the Farm Credit System's 95 year history."
PRSA Colorado recognized Farm Credit and InView for achieving outstanding results, demonstrating innovation and creativity in public relations, creating a positive impact on the communications profession, and exhibiting high professional and ethical standards.
"This team took a creative inside-out approach to integrated communications – mobilizing Farm Credit's internal communicators and leveraging InView's expertise in brand messaging, media relations and employee communications – to generate excellent results," said Carey Madsen, managing director at InView Communications. "The team at InView extends our congratulations and appreciation to our wonderful partners at Farm Credit."
The team also picked up several other honors at this year's Gold Picks. InView Communications and Farm Credit won Gold Picks for their work in the Workshops/Seminars/ Training Programs category for Idea Share 2011 – Farm Credit's first-ever interactive marketing and communications conference and for their 2011 Community Impact Report. They also received a Silver Pick award in the "events less than seven days" category for Farm Credit Rocks at FFA.
About InView Communications
InView Communications was founded in 1998 and maintains offices in Phoenix and Denver. The firm specializes in integrating public, internal, media and investor relations with strategic social media programs to meet its clients' objectives and deliver measurable results. InView's professionals help clients enhance their brand by connecting and engaging with their key target markets.
Contact:
Maria Miller, Senior Account Executive
(303) 707-1776
mariamiller(at)nviewcommunications(dot)com
inviewcommunications.com
@InViewComm | facebook.com/InViewCommunications
About Farm Credit: Lending Support to Rural America
For 95 years, Farm Credit has been a national provider of credit and related services to rural America through a cooperative network of customer-owned lending institutions and specialized service organizations. Created by Congress in 1916, the Farm Credit System provides nearly $175 billion in loans and leases to farmers, ranchers, rural homeowners, aquatic producers, timber harvesters, agribusinesses, and agricultural and rural utility cooperatives. For more information about the Farm Credit System, please visit farmcredit.com.
For more information:
Margaret Fogarty, Farm Credit National Communications Director
Margaret.Fogarty(at)farmcredit(dot)com
(303) 721-3284
farmcredit.com
twitter.com/farmcredit | facebook.com/farmcreditnational