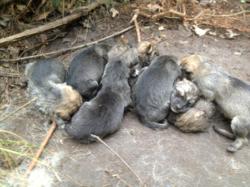 It is very exciting to be part of the effort to bring the plight of one of the world's most iconic and essential species to a larger audience. - WildEarth TV's Technical Director, Peter Braat
South Salem, NY (PRWEB) May 08, 2012
The Wolf Conservation Center may be based in a New York suburb, but through a new partnership with WildEarth TV, wolf lovers from around the world can observe four breeding pairs of wild wolves on eight cameras installed in and around the dens – just in time for birthing season.
Although it was too dark to witness the first litter that one of the WCC wolf mothers gave birth to under a thicket two nights ago, the Center is hoping that she'll move her pups into the den. There, the WildEarth cameras will give viewers the rare opportunity to observe maternal behavior and pup rearing. Viewers may still catch a live birth of one of the other three females through web streams on the WCC website (nywolf.org/wolfcam), WildEarth TV site (http://www.wildearth.tv/wolves) and on a variety of other public, ad-supported channels.
The cameras allow people to observe the wolves without being intrusive. The pups can thrive and the wolves retain their natural fear of humans so they can survive in the wild when eventually released.
Established in 1999 by world-renowned French pianist Hélène Grimaud – whose two passions are classical music and wolves – the Wolf Conservation Center's founding mission was to teach the public about the crucial role wolves play in a healthy, sustainable environment. In 2004, the WCC joined the national Species Survival Plan (SSP) program – expanding its mission beyond education to actual conservation. It acquired the property adjacent to its education facility and built protected, expansive enclosures to shelter and breed critically endangered wolf populations for reintroduction into their native habitats. The WCC currently has four breeding SSP pairs on premises – more than any other SSP facility.
"It is very exciting to be part of the effort to bring the plight of one of the world's most iconic and essential species to a larger audience," says WildEarth TV's Technical Director, Peter Braat. "There is no better way to bring together people from different backgrounds than to create an immersive, shared experience." That's exactly what WildEarth TV did for the National Bear Center, whose live den cam captured the birth of Lily – a black bear cub – whose life was followed by hundreds of thousands of people across the world. Braat traveled all the way from South Africa to work with the WCC staff and volunteers to install the cameras, but the international effort doesn't end there: Sarka Kalusova, President of Digital Fin Communications, a new-media agency based in Toronto, Canada, worked with Braat and the WCC to embed the web streams in the new WCC website she had created and launched for the organization just last Fall.
"We hope that our 'wolf cams' will prove as popular as Lily the Bear was," commented WCC Executive Director Deborah Heineman, "but the most important thing is that the new website and the live web stream has allowed us to exponentially expand the reach of our conservation message. Five years ago, the only people who could participate in our programs and meet our wolves were visitors to the Wolf Center or participants in a traveling Ambassador Wolf program. But we are committed, with the support of amazing organizations like WildEarth TV and Digital Fin, to using new media and technology to bring our wolves, our conservation mission, and our passion to an audience that we believe is limitless."
"This is really a unique opportunity for everyone to play a part in the Species Survival Program," said WCC Curator Rebecca Bose, who serves on the SSP Management Committees of both the Mexican gray wolf and the red wolf (the two critically endangered species sheltered and bred at the WCC). "We can't have staff members watching the den cams at all times – that's where volunteers and wolf lovers come in. If anyone is lucky enough to witness the pups being born on camera, they can help out the WCC by informing us on Twitter, Facebook or by email so we can make sure the newborn pups are healthy and mom is doing fine."
About Wolf Conservation Center:
The Wolf Conservation Center (WCC) promotes wolf conservation by teaching about wolves, their relationship to the environment, and the human role in protecting their future. This mission is accomplished by promoting wolf conservation through on and off-site education programs, providing a natural habitat for a few captive wolves, being the preeminent facility in the eastern United States for the captive sheltering and breeding of two endangered wolf species – the Mexican gray wolf and the red wolf, and supporting wolf reintroduction in federally designated areas that can sustain viable wolf populations. For more information please visit http://nywolf.org.
About WildEarth TV:
WildEarth is a pioneer in LIVE wildlife broadcasting and prides itself on producing and distributing some of the world's most exciting and compelling wildlife webcams. WildEarth is also a leader in the production of immersive 3D content and operates a 24/7 3DTV cable channel by the same name. More information is available at http://www.wildearth.tv.
About Digital Fin Communications, Inc.:
Founded in 2004 in Toronto, Canada, Digital Fin Communications is a boutique new media agency with a diverse clientele ranging from artists and media producers to non-profit and government organizations. The company's unique creative strategies incorporate the full spectrum of online and offline tools, including social media, multimedia production, web development, e-marketing and recently, streaming video. More information is available at http://www.digitalfin.com.