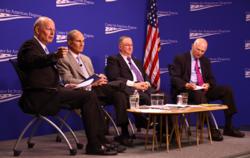 Defense leaders are 'missing the forest for the trees' on these issues, and the real focus should be on sustaining needed incentives for the 17% to stay rather than whacking their benefits to help the 83% who choose to leave.
Alexandria, VA (PRWEB) May 08, 2012
Military Officers Association of America (MOAA) President Vice Adm. Norb Ryan, Jr. participated on a panel yesterday entitled "The Future of Military Compensation: Equity vs. Affordability" at the Center for American Progress (CAP). Ryan made it clear that military retirement and healthcare programs are vastly different from other federal entitlement programs. He said the programs are earned compensation for extended service to our country.
The debate was over a new CAP study that recommends cutting back on military pay raises, converting military retirement to a contributory 401(k)-style system, and dramatically increasing TRICARE fees for military retirees, among other things.
Joining Ryan on the panel was Maj. Gen. Arnold L. Punaro (USMCR-Ret.), a member of the Defense Business Board and Michael J. Bayer, former Chairman of the Defense Business Board, whose 2011 report recommended major cutbacks in military retirement. The panel was moderated by Lawrence Korb (USNR), Senior Fellow for CAP and former Assistant Secretary of Defense for Manpower, Reserve Affairs, Installations and Logistics.
Bayer said, "Until personnel costs are wrestled down to manageable levels, there won't be enough to fund other defense needs." He advocated a radical overhaul of what he asserted is "an archaic system of [military] pay and benefits," noting that 83% of military people leave service without any benefit.
Punaro said he agrees with MOAA that we don't want to return to the "erosion of benefits" era of the late 1970s, but argued for significant benefit cuts for future entrants. He noted that military retirees' life expectancy will continue to rise another 6 to 8 years, "creating another huge financial burden for the country."
VADM Ryan countered that Defense leaders are "missing the forest for the trees" on these issues, and the real focus should be on sustaining needed incentives for the 17% to stay rather than whacking their benefits to help the 83% who choose to leave. "There's a reason only 17% stay for a career," he said, citing the huge sacrifices inherent in a military career. "The 83% don't leave with nothing," he said. "Congress approved a GI Bill worth upwards of $80,000 per person, to help them with that transition." He noted a 20-year NCO earns retired pay of only $23,000, and that proposing big pay, retirement, and healthcare cutbacks "dishonor their service."
MOAA President Defends Military Compensation video May 7, 2012 by TheMOAAChannel
# # #
About MOAA:
Military Officers Association of America (MOAA) is the nation's largest officers association with 370,000 members from every branch of service, including active duty, retired, National Guard, Reserve, and former officers and their families and survivors. MOAA is a nonprofit and politically nonpartisan organization and an influential force in promoting a strong national defense. MOAA represents the interests of service members and their families in every stage of their lives and careers, and for those who are not eligible to join MOAA, Voices for America's Troops is a nonprofit MOAA affiliate that supports a strong national defense. For more information, visit http://www.moaa.org