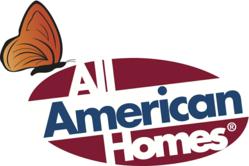 I felt very fortunate that we were still alive and most of the house was still intact.
Moscow, Ohio (PRWEB) May 09, 2012
People who lost their homes because of tornadoes and storms in recent months are eligible for special disaster rebuilding discounts and quick rebuilding assistance from All American Homes, major modular homebuilder.
All American Homes disaster rebuilding program gives victims of storms, fires and other disasters a new house at a reduced price and a rapid build time. Under the program, disaster victims are given special priority for reconstruction. A new modular home can be built in as little as two months, depending on the footage and on-site additions such as garages, decks and porches. On the cost side, the program offers a discount of up to $4 per sq. ft. Some buyers may also qualify for no down payment.
Modular home building systems are often misunderstood and confused with other types of factory-constructed housing. However, with its sophisticated custom building process, modular housing has staked out an innovative niche in the construction industry that duplicates and improves upon the architectural designs for site-built housing, while bringing new levels of building quality, cost-efficiency and energy-saving style to home building.
Noteworthy for storm victims, modularly constructed homes have proven more storm-worthy than site-built homes due to engineered structural reinforcements inherent to the method of construction. A FEMA report on a Category Four hurricane in Florida with 131 to 155 mph winds concluded that modular homes "provided an inherently rigid system that performed much better than conventional residential housing."
Last March in Moscow, Ohio, the home of residents Ken and Sharon Chambers became the latest "poster child" for modular construction. Their modular home was the only one left mostly intact in an area that saw extensive damage in the March 2 and 3 storms. Catch the video on YouTube.
Riding out the storm that hit southwestern Ohio, Ken and Sandra were huddled in a basement closet. "All you could hear was such a roar of wind," Sandra remembered.
Reassuringly, though, "we felt no vibration, no shaking of the house or anything like that," said Ken. "It was just lots of wind blowing really hard and it was the glass breaking … I knew all the windows were blowing out."
When they emerged from the closet and came upstairs, debris and glass were everywhere. But the walls, floors, ceiling and furnishings were all still there. Then Ken stepped outside. "I walked out front and saw the damage on both sides of me, with literally every house gone … I felt very fortunate that we were still alive and most of the house was still intact."
One of the first things Ken did was call All American Homes, headquartered in Elkhart, Ind., and tell them how very glad he was to be one of their customers. All American constructed Ken and Sandra's home back in '97. Ken is sure the modular construction of his home made a difference during the storm. "One of my pet peeves," said Ken, "is you tell people you've bought a modular home that's brought in on a trailer, they think it's a double-wide. There is absolutely no comparison."
Ken refers to the use of 2 x 6 instead of 2 x 4 wall studs, the tight glue bond that cements the different factory-made modules together, and the quality and extra-sturdy construction procedures he saw when he visited the All American plant in Decatur, Ind. "I also liked how quick it could be put up," he said.
Along with the ability to withstand hurricane force winds, another advantage to modular construction is "how customizable it is," said Stacey Miller, director of marketing for All American Homes. "Our designs encompass just about any architectural style, multi-story as well as single story, with multi-car garages, porches, decks and the like added on-site if desired. Modular houses are indistinguishable from site-built houses."
Unlike site-built houses, however, modular homes can usually go up much quicker. "Our off-site building process really streamlines the project and leaves the independent builder with a simpler finishing job. Depending upon the footage, the entire build can be as little as two months, or up to half the time it would take for a site-built house," said Miller.
"Lenders and insurance companies also like modular housing because it can be more accurately priced, right down to the last detail," said Jenny Miller, who works as office manager and sales representative for Quality Homes of Madison (Indiana), one of All American Homes' independent builders. Off-site build costs are more predictable and the whole process yields fewer cost overruns. So the quick build time and accurate pricing makes modular housing very applicable to rebuilding after a disaster.
For the independent builder, modular construction is a great way to go, affirmed Tim White of White Pine Construction, Aurora, Ind., another on-site builder for All American Homes. " I was a stick (site-built) and log cabin builder for 15 years or so, and the reason why I decided to go this way is because it's the way of the times. I couldn't build a house on-site as good as the guy in the factory line who does the same job all day long."
Jenny Miller agrees. "I'll never stick build again. I bought a modular home in 2005 and it's a wonderful home."
Modular housing has also become known as a green building system, not only because of such features as upgraded R value insulation and ENERGY STAR® rated appliances, but also because its environmentally controlled off-site building process addresses such issues as moisture damage and construction waste very effectively.
"Some of the most innovative new housing designs in terms of energy savings and green living have been modular designs," said Stacey Miller. "For this and the other reasons mentioned, we believe that today's modular building systems truly do represent a new way forward in terms of quality, innovative and cost-efficient housing, especially for a construction industry trying to get back on its feet."