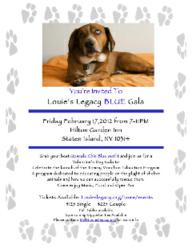 "We pull primarily from our local shelters, and help these animals overcome their illness, understand their temperament, get them needed medical help and then present them for adoption," - Louie's Legacy Animal Rescue
Staten Island, NY (PRWEB) May 11, 2012
Louie's Legacy Animal Rescue has saved nearly 1000 animals in 2011 and they plan to increase that number in 2012. Their ultimate goal is to give unwanted animals a second chance to live.
In the U.S., approximately 5 to 7 million animals enter animal shelters and 3 to 4 million are euthanized, according to the ASPCA. Many of these animals are destroyed due to poor health, temperament or simply because there isn't sufficient shelter space, to keep them alive.
"We pull primarily from our local shelters, and help these animals overcome their illness, understand their temperament, get them needed medical help and then present them for adoption," according to Louie's Legacy Animal Rescue.
Louie's Legacy is also proud to announce the recent launch of their new program, the Tommy Monahan Educational Program. This program promotes awareness about the plight of shelter animals and how we all can contribute to saving their lives.
The program is in honor of a nine-year-old Staten Islander who gave up his life, trying to save his animals during a fire in 2007. Tommy Monahan dedicated his life educating his friends and family about animal safety. Louie's Legacy Animal Rescue is continuing his legacy.
Since the launch of the program, the animal rescue team has been reaching out to many people across the community (and beyond) to educate them about the importance of saving the lives of animals. You can learn more about their programs and upcoming events on their website.
About Louie's Legacy Animal Rescue
Louie's Legacy is a non-profit, animal rescue mission which rehabilitates, re-homes and saves animals from high-kill shelters nationwide. The rescue team operates in New York, Pennsylvania and Ohio.
In 2011, Louie's Legacy was chosen to receive funds in honor of Tommy from December 17th, through August 29th, as part of the Tommy Monahan Drive. In August of 2011, the rescue team held a large summertime event on Staten Island as part of this drive. This past February, Louie's Legacy hosted its first annual Blue Gala at the Hilton Garden Inn.
The main sponsor for the event was Whiskers and Leo Pet Care, a local dog walking and pet care company. Whiskers and Leo sponsored this event, and also sponsored smaller events with Louie's Legacy throughout the year. They worked diligently year round to help raise money for the charity from local businesses to help facilitate the adoption of homeless animals.
In Cincinnati, OH, the Adoptables of Louie's Legacy can be seen at the PetSmart (Eastgate) every Saturday from 1:00 pm - 7:00 pm and PetSmart (Mason) on Sundays from 1:00 pm - 5:00 pm in Cincinnati, OH. The Staten Island location announces adoption events every month.
Contact Louie's Legacy Animal Rescue online at: http://www.louieslegacy.org or call (718) 227-9723.