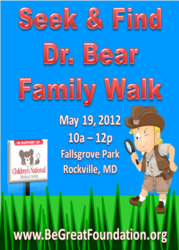 The new center will offer hope to those that most need it.
Gaithersburg, MD (PRWEB) May 07, 2012
GXS, a leading provider of B2B integration services, today announced the Seek & Find Dr. Bear Family Walk, a charity walk to help raise money for a New Center for Diagnostic Immunology & Transplantation at Children's National Medical Center. Sponsored by GXS, the annual event is being held by the BE GREAT foundation, a public charity for children with immune deficiency, on Saturday, May 19, 2012 at 10:00 am in Rockville, MD.
Participants of Seek & Find event will take a one mile walk on the Rockville Millennium Trail in Fallsgrove Park. Along the trail, families will find hidden surprises including Dr. Bear, the beloved Children's National mascot. All participants will receive a trail guide and pencil to keep track of the treasures they find. There is a $20 donation to participate, which includes a t-shirt, goody bag, trail guide and wristband. Children 2 and under participate for free.
What: Seek & Find Dr. Bear Family Walk
When: Saturday, May 19, 2012 from 10:00 am to 12:00 pm
Where: Fallsgrove Park, 700 Fallsgrove Drive Rockville, MD 20850
"BE GREAT Foundation is proud to work with Children's National and GXS to invest in childrens' healthy tomorrows," said Alison Plotas, President and co-founder BE GREAT Foundation. "Our 13 month old son Alexander's unexpected journey with immune deficiency didn't end when he died. BE GREAT brings benefit to so many children just like him, giving them the chance to be healthy and to 'Be Great'. The Seek and Find event will help improve the lives of children with immune deficiency."
"We are thrilled to be part of BE GREAT's efforts in the community to improve our children's lives," said George Hall, senior vice president and chief human resource officer at GXS. "The new center will offer hope to those that most need it."
"With critical support from the BE GREAT Foundation we hope to create the Center for Diagnostic Immunology and Transplantation which will transform the world-class care we provide at Children's National Medical Center," said Dr. Brett Loechelt, Immunologist and Transplantation Specialist at Children's National. "Immunodefiencies are rare, yet often fatal, so we must explore the questions to uncover ways to improve diagnosis and ultimately save children's lives."
One in every 500 newborns has a primary immune deficiency, and one in 33,000 has severe combined immune deficiency (SCID). Untreated, these children often do not live past two years old. Children's National currently has a diagnostic capability focused on immunology and transplantation, and there is a need to expand it. A new center will increase the number of children treated, expand diagnosis and research ability, and enable the use of the newest technology for improved patient outcomes.
About Children's National Medical Center
Children's National Medical Center in Washington, DC, has been serving the nation's children since 1870. Home to Children's Research Institute and the Sheikh Zayed Institute for Pediatric Surgical Innovation, Children's National is consistently ranked among the top pediatric hospitals by U.S.News& World Report and the Leapfrog Group. With 303 beds, more than 1,330 nurses, 550 physicians, and seven regional outpatient centers, Children's National is the only exclusive provider of pediatric care in the Washington metropolitan area. Children's National has been recognized by the American Nurses Credentialing Center as a Magnet® designated hospital, the highest level of recognition for nursing excellence that a medical center can achieve. For more information, visit http:// http://www.ChildrensNational.org.
About BE GREAT:
BE GREAT Foundation is a 501(c)(3) public charity organization with every donation going toward enabling advancements in curative treatments for children with immune deficiency. Founded in November 2011 by Pete and Alison Plotas, BE GREAT is dedicated to their son Alexander James Plotas who died in September 2011 at 13 months of age due to respiratory complications from a severe form of immune deficiency, after a successful bone marrow transplant. Committed to improving the lives and medical outcomes of the tens of thousands of children with immune deficiency, the BE GREAT Foundation enables advancements in curative treatments for children with immune deficiency by supporting improvements in bone marrow transplantation, medical equipment and educational programs for parents. Visit http://www.BeGreatFoundation.org to learn more.
About GXS:
GXS is a leading B2B integration services provider and operates the world's largest integration cloud, GXS Trading Grid®. Our software and services help more than 400,000 businesses, including 72 percent of the Fortune 500 and 23 of the top 25 supply chains, extend their partner networks, automate receiving processes, manage electronic payments, and improve supply chain visibility. GXS Managed Services, our unique approach to improving B2B integration operations, combines GXS Trading Grid® with our process orchestration services and global team to manage a company's multi-enterprise processes. Based in Gaithersburg, Maryland, GXS has direct operations in 20 countries, employing more than 2,400 professionals. To learn more, visit http://www.gxs.com or follow us on Twitter at http://twitter.com/gxs. To access our public filings with the Securities and Exchange Commission, go to http://www.sec.gov/edgar.shtml.