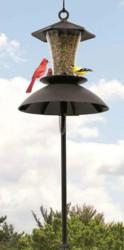 I have the original Effort-Less free standing feeder and it's every bit as easy to fill and enjoy as Duncraft says it is!...K. Lieberman--Duncraft Customer
Concord, NH (PRWEB) May 08, 2012
The original, free-standing Effort-Less Bird Feeding System is a best seller at Duncraft. Among its many benefits is that the feeder portion of the system slides down the pole for easy filling, then slides back up and locks into place. Customers don't have to reach up or bend down to fill the feeder. Now customers can enjoy this great feature in three new models.
All the Effort-Less Bird Feeder models operate in a similar fashion. By simply pulling out a pin located on the pole, the top portion of the pole containing the bird feeder slides down over the lower portion of the pole, bringing the feeder down to a level that makes filling easy. The top roof remains in place so when the feeder is lowered, there's no fumbling to open the lid. The top of the wide hopper is open and ready to fill. After filling, the feeder is simply pushed back up the pole and the pin put back in place.
For customers that prefer a free-standing feeding system, the new Deluxe Effortless Bird Feeder now has the addition of two versatile cups located on each side of the feeder. One cup has drainage and can be used for more seeds, pieces of apple or banana, even berries. The other cup has no drainage and is perfect for offering water, mealworms, or jelly for orioles. The ability to offer fruit, insects and water greatly increases the variety and number of birds that come to a bird feeder.
Customers who prefer hanging feeders now have two new options—the Effort-Less Hang-up and the Effort-less Hang-Up with Squirrel Guard. Customers can hang the feeders as high as they want without worrying about how to get the feeders down for filling. As in the free-standing models, simply pulling a pin on the hanging pole lowers the feeder to a manageable level for filling. A hanging loop is provided at the top of the feeder and customers supply their own chain or hanging hook. The feeders can even be hung from a shepherd's hook if desired.
All four models of the Effort-Less Bird Feeder are made in the USA and constructed of commercial, UV stabilized resin. The free standing models have a base that can be weighted with sand or gravel for stability. The hoppers hold anywhere from 4 – 10 lbs. of seed and are easily disassembled for cleaning or they can simply be rinsed out with a garden hose.
Founded in 1952 and located in Concord, New Hampshire, Duncraft's objective is to bring the joy of backyard birding to wild bird lovers all across the country. Mike Dunn, owner and CEO is constantly inventing and searching for innovative ideas in bird feeding—giving bird lovers years of bird feeding enjoyment, success and satisfaction.
Duncraft
102 Fisherville Road
Concord, NH 03303