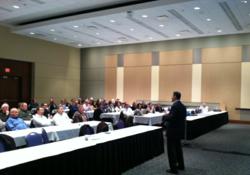 Sarkis Adds "Ashton has a strong focus on delivering client value, workflow efficiency, and ensuring all program aspects align with client priorities."
Rochester, NY (PRWEB) May 08, 2012
PharmaSmart International Inc, a Rochester, NY company today announced it is promoting Ashton S. Maaraba, 38, to Chief Operations Officer. In this capacity, Maaraba will lead Global Operations, Sales/Marketing, Production, Customer Service and Corporate Development. Maaraba, a veteran pharmacy services & HBC supply-side leader, joined the company in 2008 to lead global sales and marketing initiatives. At 38, he now becomes PharmaSmart's first Chief Operations Officer.
PharmaSmart President, Fred Sarkis, states "Under Ashton's leadership PharmaSmart successfully transitioned itself into a premiere disease state management, and Health IT company. Ashton has a strong focus on delivering client value, workflow efficiency, and ensuring all program aspects align with client priorities." Sarkis adds, "We are experiencing rapid growth, and Ashton's expertise, executive experience and 'customer first' focus has helped every aspect of our company, and has accelerated our growth trajectory." Sarkis points out, "Ashton leads by example and understands how to scale a company to meet customer demands "
Maaraba adds, "PharmaSmart is a great team. We put the emphasis on a disciplined, hands-on approach to all aspects of company execution. PharmaSmart employees have embraced the changes required to enable exponential growth. Our pharmacy service and employer clients have mandated a growing list of vendor expectations. Further, the medical community is looking to vendors that can deliver validated "Out of Office" diagnostics they can rely on in their busy practices. It's our job to listen, and deliver on their clinical and business expectations. That is our guiding philosophy. PharmaSmart is poised for explosive growth and I am excited to take on this new leadership opportunity.
PharmaSmart also announced the addition of Dave Fong RPh. as a Strategic Advisor for Pharmacy Services. Maaraba states, "The addition of Dave Fong provides PharmaSmart added depth and experience to our Pharmacy Services team. Dave understands the complexities of today's pharmacy, which must balance MTM growth objectives with the realities of pharmacy workflow constraints. We look forward to working with Dave as we grow our clinical programs to fit the business objectives of our pharmacy retailers." Dave Fong stated "PharmaSmart's clinical approach to hypertension management, and their focus on executable IT integration sets them apart from traditional kiosk vendors. They are an experienced team focused on pharmacy services innovation. I look forward to working with the PharmaSmart team and their growing client base."
PharmaSmart also announced the addition of Matthew P. Bryant (CPA) as corporate Controller, who will be leading PharmaSmart's Finance Division. Mr. Bryant brings 14 years of accounting and CPA experience to his new leadership role at PharmaSmart. Mr. Bryant was formerly Controller for Flower City Printing, a leading national printing company. Bryant stated "I am pleased to be joining the team of one of Rochester NY's top growth companies. PharmaSmart has a number of strengths, including an unusually strong balance sheet, a leadership position in Health IT, a disciplined team, and immense growth potential. I look forward to contributing to
PharmaSmart's compelling growth story."
PharmaSmart, headquartered in Rochester, NY, USA, currently serves more than 6000 locations, including retail pharmacies such as, Wal-Mart Canada, Nash Finch, Safeway Canada, Coborn's, Loblaw's, Roundy's, Smart Med Rx, Leader, Good Neighbor, Le Groupe Jean Coutu, Shoppers Drug Mart, Rexall/Katz Group, Zellers, Sobey's Lawton's, Astrup Drug, Winn Dixie, Big Y Foods, and other fine pharmacies. PharmaSmart also serves major worksites, military bases, hospitals and medical clinics. For more information visit the company's website at http://www.pharma-smart.com or contact Corporate Communications Mary Ann Rutkowski at (800) 781-0323.