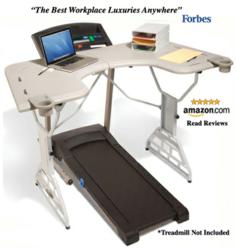 For every mile walked one dollar is donated to WinetoWater.org which provides clean drinking water for one individual for an entire year.
New York, NY (PRWEB) May 10, 2012
TrekDesk Treadmill Desk's appearance on Fox & Friends national morning program last week generated significant interest in the concept of how to workout at work. Fox adeptly illustrated the difference between a cardiovascular workout and slow, methodical movement at an office desk. AOL's Carissa Loethen of Morning Rush reported on the distinction between walking slowly at an office desk with the TrekDesk Treadmill Desk for those who may have missed the point and the philanthropic effort behind the W3 initiative.
Carissa made a point to stress the importance of moving slowly through the day as opposed to running. "Remember guys it's work and WALK, pace yourself."
Both Fox and AOL graciously reported on the need for Americans to walk more for their own health as well as the health of less fortunate world wide. "There was a reason for all of the walking. Gretchen's TrekDesk is partnered with the W3 Project or walk for WinetoWater.org. If you are feeling that your nine to five could use a boost, you can join in donating every extra step you take to help bring clean water to those in need."
Three children die every minute worldwide due to a lack of clean drinking water, a tragedy with a solvable solution. Doc Hendley, a 2009 CNN Hero award winner has built an organization that has brought fresh water to some of the poorest nations on earth, including Sudan, Haiti, Uganda and Cambodia.
"For every mile walked one dollar is donated to WinetoWater.org which provides clean drinking water for one individual for an entire year, " stated Steve Bordley, CEO of TrekDesk Treadmill Desks. "Doc's story is a great example of how each of us has the ability to affect great change in this world and we are proud to support his efforts in any way possible."
To donate miles visit http://www.filtersfast.com/W3.Watch the entire AOL Morning Rush segment here: http://on.aol.com/video/gretchen-carlson-walks-while-she-works-517356913
About the TrekDesk Treadmill Desk: Designed to fit any existing treadmill, TrekDesk treadmill desk is an affordable, full sized, height adjustable workstation that allows individuals the opportunity to gain the necessary amount of exercise daily to maintain health, prevent disease, strengthen muscles, boost mood and productivity, without requiring additional time during the day or extra motivation. Let TrekDesk show you how to workout at work.
TrekDesk is currently available for sale online at http://www.trekdesk.com.
Join the TrekDesk "Movement Revolution" to learn more, win a free TrekDesk or ask any health related questions anytime at http://www.facebook.com/trekdesk, or follow TrekDesk on twitter -http://www.twitter.com/trekdesk.