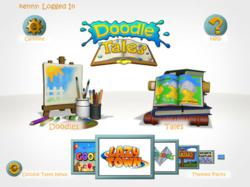 "Doodle Tales is more than just another doodling app… It feeds on creativity, and it's guaranteed to be both fun and educational for your child" - App Bite
Hampshire, UK (PRWEB UK) 9 May 2012
Europress, a leading family video games producer, is today announcing the launch of Doodle Tales – a new mobile app that's set to revolutionize the way kids can express their creativity. Best of all, the fully functional version is available completely free.
Combining a full featured, best of class, art package; an intuitive story making tool; and the ability to easily, and safely, share Doodles and Tales with the inbuilt social community, Doodle Tales gives kids the freedom to really let their creative juices flow. The app was created by BAFTA Award-winning developer Extra Mile Studios – the studio behind the first Teletubbies app, and the bestselling Isaac Newton's Gravity.
Click here to download Doodle Tales now
Stuart Chiplin, Head of Publishing, Europress, said:
"Our goal with Doodle Tales is to build a global kids community focused on creativity, and giving the app away for free means every kid with access to the technology can join the community. Additional content can be unlocked through the in-app purchase mechanism, but every single creative feature is completely free."
Six content packs will be available at launch – each with a number of themed stickers, backgrounds and pattern brushes. Regular updates will be released with additional branded content to supplement launch packs from popular kids franchises such as LazyTown (the multi award-winning show that promotes healthy activities) and Numberjacks (the top rated CBBC numeracy hit).
About Europress:
Europress is a family video games publisher of more than 25 years standing. Publishing critically acclaimed software under the Art Attack, Spot the Dog, and Fun School brands, it has sold more than 2 million copies of software before falling under the stewardship of Koch Media after ownerships spells with Hasbro then Atari. Now firmly positioned as a family publisher proud of its British roots it has set about developing and publishing products that are of the same quality as its long standing brand credentials.
About Extra Mile Studios:
Extra Mile Studios is a Glasgow, UK based developer of digital content, formed in 2004 by a team of game development professionals with many years experience in the children's and casual/family entertainment sectors - creating hit titles based on some of the best known brands in the world, including Bob the Builder, Wallace & Gromit, Teletubbies, Smarties, Dodge, and Noddy. The company has a rock solid, tried and tested, tool chain which allows them to efficiently and safely develop titles for PC, consoles and mobile devices.
About LazyTown:
Acquired by Turner Broadcasting in 2011, LazyTown is a leading and highly respected children's entertainment brand that promotes health and wellbeing to pre-schoolers in an energetic and fun way. Starring its creator, former athlete Magnus Scheving, the TV series is broadcast in over 170 countries and to 500 million homes worldwide.
About Numberjacks:
The Numberjacks are ten small superhero numbers who go about their everyday lives inside their sofa until a call comes in from a real-life child, reporting a problem that needs to be solved. The Numberjacks have to work out how to put things right, and thwart the dastardly intentions of the Meanies. After much fun, adventure and powerful thinking the Numberjacks win the day - till next time. Numberjacks is all about excitement, fun and learning maths. The Numberjacks appear in 65 television episodes, broadcast by the BBC in the UK, and in more than 50 other countries around the world.