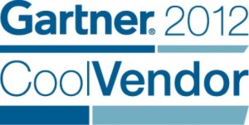 IT and/or facilities managers looking for a proven DCIM solution should consider Modius
San Francisco, CA (PRWEB) May 08, 2012
Modius Inc., the leading provider of real-time monitoring solutions for data center mission-critical infrastructure, today announced its selection by Gartner, Inc. as a "Cool Vendor" in Gartner's 2012 report covering DCIM and related tools.
The "Cool Vendors in DCIM and Related Tools, 2012" report published late last month identifies five vendors with attractive data center infrastructure management solutions that provide the ability to manage and control energy and other critical data center resources. The Modius OpenData platform for DCIM was featured in this report.
According to the report, "The Modius OpenData software platform focuses on decision support tools and real-time monitoring capabilities enabling data center personnel to monitor and implement power, cooling and space optimizations. IT and/or facilities managers looking for a proven DCIM solution that is more product-software-based and companies with skilled IT staff capable of exploring and maintaining the benefits of a comprehensive set of solutions that goes beyond basic measuring and monitoring of energy consumption should consider Modius."
"The Modius OpenData DCIM solution delivers exceptional value to data center operators looking to manage and control their critical infrastructure and resources" said Craig Compiano, CEO of Modius. "We are honored and proud to be recognized by Gartner as a proven DCIM solution in this category."
From a single console, Modius' OpenData platform displays in real-time comprehensive power and environmental intelligence from a distributed network of facilities - including data centers, server closets, call centers and mechanical yards. Using these metrics, data center leaders have the ability to anticipate and plan for numerous data center events that will enable them to reduce data center energy consumption. The system can be installed either locally within the enterprise network or remotely with the database and server application hosted in a cloud-based configuration for easier service management.
About Modius
Modius Inc. is the leading provider of real-time monitoring and performance management software for facilities infrastructure. Modius' solutions enable IT and facilities to work collaboratively to lower energy costs, expand capacity and improve availability of IT services. The Modius flagship product, OpenData®, monitors all power-distribution, cooling and environmental sensor equipment from a single console, providing comprehensive operational intelligence for unified performance analysis and metrics. OpenData® captures and stores health, thermal and energy-consumption data from a broad range of site infrastructure devices and sensors, providing real-time monitoring for data centers, call centers, server closets and mechanical yards. For more information, visit http://www.modius.com or call (888) 323-0066.
Disclaimer:
Gartner does not endorse any vendor; product or service depicted in our research publications, and does not advise technology users to select only those vendors with the highest ratings. Gartner research publications consist of the opinions of Gartner's research organization and should not be construed as statements of fact. Gartner disclaims all warranties, expressed or implied, with respect to this research, including any warranties of merchantability or fitness for a particular purpose. For more information, visit http://www.gartner.com.