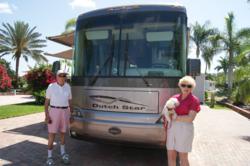 we've had 2 Mountain Aire motorhomes, this has all the same amenities...we like the this (Dutchstar) better.
Ft. Myers, FL (PRWEB) May 09, 2012
Ft. Myers, FL-- With diesel prices up over $4/gallon, money saved during the initial purchase of an RV could go a long way...literally. By saving roughly $140,000 dollars on the purchase of a 2012 Newmar Dutch Star motorhome vs a 2012 Newmar Mountain Aire motorhome and getting roughly 8 miles to the gallon, someone could either drive their RV around the world roughly 5 times (about 24,000 miles each trip), or they could roughly drive it to the moon (about 285,000 miles)..one way that is!
However, there is nothing 'rough' about traveling in the all new, 2012 Newmar Dutch Star, luxury, class A, motorhome. Another bright star in the 2012 Newmar lineup, the Dutch Star is their premier mid-line coach that embodies luxury yet gives buyers choices about where to spend that 'leftover' cash. While it makes for good headlines, fuel price increases seem to make little difference for RV buyers. North Trail RV Center in Ft. Myers, FL is currently celebrating another record breaking season for RV sales along with award-winning service.
Lee and Joyce Madrazo, of Greenville, South Carolina just purchased their third Newmar motorhome from North Trail RV Center in Ft. Myers, FL and they decided on a gently, pre-owned Dutch Star. Their two previous coaches were both Moutain Aires. "We've had two Mountain Aire motorhomes previously," says Joyce, "this one has the same amenities and we like it better!"
While the Mountain Aire is one step up from the Dutch Star in the Newmar product line and is now produced along side the high end Essex and King Aire, the Dutch Star holds its own with many of the same features, and gives luxury buyers a choice in the middle.
According to Dave Garl, Regional Account Manager for Newmar Corp., "With the 2012 Dutch Star, it's the best thing on the market out there. There is a lot of coach for the money here."
Featuring an upgraded, exterior paint job,Newmar's patented Comfort Drive system, residential sized appliances, state of the art electronics, Corian and porcelain finishes, custom hardwood cabinetry, and even a walk in closet with laundry room, the Dutch Star won't disappoint.
So, whether buyers choose to spend their hard saved money on fuel or moonrocks...with the 2012 Dutch Star, they won't have to sacrifice luxury.
North Trail RV Center is the world's largest Newmar dealer and has been for the last 8 consecutive years.
For more information, please visit http://www.northtrailrv.com or call 1-888-819-9973.
About North Trail RV Center
With coast to coast locations, North Trail RV Center is South Florida's largest RV dealer. With over 50 million dollars of inventory on hand, North Trail RV Center features the best rv manufacturers such as Newmar, Tiffin, Fleetwood, Keystone RV, American Coach, Pleasure Way, Winnebago, Itasca and Jayco. For over 25 years, this locally-owned, family business has grown to employ over 170 people in 3 locations throughout South Florida. With major facility expansion plans for 2013 in Ft. Myers, North Trail RV Center will continue to be South Florida's top, full-service rv dealer for many years to come. 'Like Us' on Facebook at http://www.facebook.com/northtrailrv
Media Contact:
Tim Lowry, Marketing Director
1-888-819-9973
###