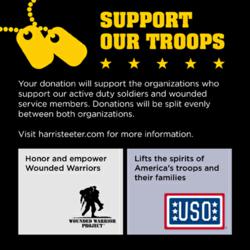 Charlotte, N.C. (PRWEB) May 07, 2012
Harris Teeter is inviting its shoppers to get involved in its Support Our Troops campaign during the month of May and first week of June by donating $1, $3 or $5 to help fund programs run by both United Service Organizations (USO) and Wounded Warrior Project™ (WWP).
Harris Teeter chose to show its support for both USO and WWP by hosting a donation card campaign as it became clear the importance its shoppers place on the programs run by both organizations. Harris Teeter shoppers have consistently shown their generosity and commitment to others by graciously participating in Harris Teeter's donation card campaigns.
Harris Teeter shoppers have told the company they recognize the sacrifice troops and their families make when they are serving our county, as well as the need to help those men and women who incur service-connected injuries. They have requested a convenient way to say thanks, and through its donation card campaign, Harris Teeter wants to make it easy for its customers to give back by making a small donation to Support Our Troops each time they make a purchase at a Harris Teeter location.
The donation card campaign will run May 7 – June 6, 2012 at all Harris Teeter locations. Associates will sell $1, $3 and $5 donation cards in support of both USO and WWP. Funds collected during the campaign will be divided evenly between both nonprofit organizations.
Thank you in advance for supporting the programs of both USO and WWP by giving back to those who have given and continue to give us so much through service to the country.
About USO
The USO (United Service Organizations) lifts the spirits of America's troops and their families millions of times each year at hundreds of places worldwide. We provide a touch of home through centers at airports and military bases in the U.S. and abroad, top quality entertainment and innovative programs and services. We also provide critical support to those who need us most, including forward-deployed troops, military families, wounded warriors and their families and the families of the fallen.
The USO is a private, nonprofit organization, not a government agency. We rely on the generosity of our volunteers and donors. In addition to individual donors and corporate sponsors, the USO is supported by President's Circle Partners: American Airlines, AT&T, Clear Channel, Kangaroo Express, Kroger, Lowe's, Northrop Grumman Corporation, Procter & Gamble, and TriWest Healthcare Alliance and Worldwide Strategic Partners: BAE Systems, The Boeing Company, The Coca-Cola Company, Lockheed Martin, and Microsoft Corporation. We are also supported through the United Way and Combined Federal Campaign (CFC-11381). To join us in this patriotic mission, and to learn more about the USO, please visit uso.org.
About Wounded Warrior Project™
The mission of Wounded Warrior Project™ (WWP) is to honor and empower wounded warriors. WWP's purpose is to raise awareness and to enlist the public's aid for the needs of injured service members, to help injured servicemen and women aid and assist each other, and to provide unique, direct programs and services to meet their needs. WWP is a national, nonpartisan organization headquartered in Jacksonville, Florida. To get involved and learn more, visit woundedwarriorproject.org.
About Harris Teeter
Harris Teeter Inc., with headquarters in Matthews, N.C., is a wholly-owned subsidiary of Harris Teeter Supermarkets, Inc. (NYSE: HTSI). Harris Teeter is the 24th largest supermarket in the U.S. with 2011 sales of $4.29 billion. The regional grocery chain employs approximately 25,000 associates and operates stores in North Carolina, South Carolina, Virginia, Georgia, Tennessee, Maryland, Delaware, Florida and the District of Columbia.