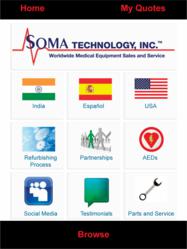 The APP provides today's busy professionals with what they need—mobile access to the company's inventory of diverse new and refurbished medical equipment from the top names in the industry.
Bloomfield CT (PRWEB) May 08, 2012
The app comes fully loaded with an inventory list of the most sought-after medical equipment, complete with specifications for browsing and searching. Setting up a new OR project? Users can browse through everything from anesthesia machines and surgical tables to electro surgical units and surgical lights. In need of a ventilator to help get through the peak flu season? Send in a request for a rental quote. Here, the "shopping cart" is really a "quote cart," in which the user compiles a list of medical equipment needs that is then sent to Soma as a quote request. The app is a great tool for equipment planners and equipment dealers on the go. In today's fast-paced, high-tech economy, SOMA APP will boost productivity with a drastic cut in turnaround time.
For a broader view of Soma Technology, Inc, click on the "Learn more about us" button to find nine great links associated with the company, including direct links to its main website, its Spanish language website, and the site for Soma's Southeast Asian headquarters. Get a closer look at Soma's refurbishing process, check out an impressive list of company partnerships and alliances with other major players in the medical equipment industry (including Dräger, DUNLEE, and GE), and link to "AEDonSale," Soma's newest site devoted to top-of-the-line AEDs (automatic external defibrillators), which features new and refurbished models from Physio Control and Zoll, along with all the associated accessories. Finally, you will find links to the company's social media platforms to stay informed on the company's latest specials, editorials, and news releases, a link to the company's procurement team for those looking to sell equipment, and a link to Soma's medical parts and services website.
The app was recently given a test drive at the 2012 Texas Hospital Association Annual Conference and Expo in early February; users loved the intuitive navigation and elegant design, and found the trade-show to be a perfect environment in which to use the app. They found the "Tell a Friend" feature, which allows the user to share a quote list with a colleague, especially useful.
The release of Soma APP adds another jolt of energy to an exciting year for Soma Technology, as the company seeks new and improved ways to give its consumers what they want—and what they need. To get the app now, go to the following links: iPad & iPhone, Android.
About Soma Technology, Inc.
As a leader in the medical equipment market, Soma Technology, Inc. specializes in outfitting healthcare facilities with high-quality new and refurbished medical equipment. Soma can equip an entire OR suite or hospital project or replace a single piece of equipment. Soma purchases medical equipment from hospitals throughout the United States and refurbishes it to OEM standards with its team of international biomedical engineers. This process has earned Soma a coveted membership with IAMERS, whose standards in professionalism and ethical business practices reserves membership for the most ethical dealers, lessors, and refurbishers in the medical equipment field. In addition to refurbished equipment, Soma also distributes an impressive line of new equipment from top manufacturers including GE Medical, Dräger, Medtronic-Physio Control, Zoll, Stryker, Philips, Steris, Axia Surgical, and more. Soma offers everything including anesthesia machines, patient monitors, defibrillators, surgical tables, surgical lights, patient monitors, electrosurgical units, scalpels, tourniquets, sterilizers, C-Arms, C-Arm tables, portable x-ray machines, ultrasounds, heart/lung machines, ventilators, EKG machines, stress test systems, EEG machines, infusion pumps, and so much more. Soma Technology, Inc. has become a market leader because of its commitment to industry advancements while maintaining the highest level of customer satisfaction.