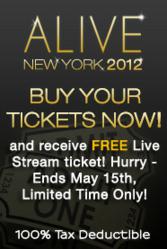 (PRWEB) May 08, 2012
Sunwarrior, a company located in Southern Nevada that creates raw, plant-based supplements on an international scale, is proud to partner with Alive New York as the Official Protein of Alive and announce that tickets are now available. Alive is the largest celebrity health, eco benefit, and awards show in the world. The two day conference begins June 29th at The Town Hall, located in Times Square, New York City.
About Alive
The ALIVE Foundation is a non-profit organization whose Mission is to Empower Humanity, Ignite Passion and Activate Purpose.
The ALIVE Foundation is dedicated to promoting empowerment of people, protection of the environment, and raising awareness of the body's self-healing abilities. Our goal is to help eradicate disease by lifestyle, through educating the public on alternative and natural remedies; while supporting like-valued organizations who are making a positive difference in humanity. ALIVE New York is ALIVE Foundation's annual charity fundraising benefit designed to: empower and educate people, raise funds and awareness for the American Anti-Cancer Institute as well as 15 additional charities, and awarding those who actively work toward creating a healthier planet. Healing people from the inside out.
About Sunwarrior
Sunwarrior was born on a warm Arizona evening in 2008 during the Sedona Raw Spirit Festival. Three different men with three different dreams met with one desire, to create a company and a product that benefit mankind and the planet mankind occupies.
The three men combined their dreams, their savvy business personalities, and their environmental consciousness to create Sunwarrior, a company committed to making the best plant-based products while elevating humanity and preserving the planet.
Sunwarrior creates healthy, raw, plant-based protein powders, supergreens, and mineral supplements perfect for anyone and any lifestyle, not just vegetarians and vegans.
For more information about Alive visit http://www.alivenewyork.com. For more information about Sunwarrior visit http://www.sunwarrior.com.