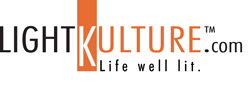 We are very pleased with the reception the products from Smart and Green have gotten.
Sarasota, FL (PRWEB) May 07, 2012
LightKulture, a leading distributor of energy efficient, eco-friendly contemporary lighting, is proud to announce a new emphasis on Smart and Green LED lamps. Smart and Green products bring portability and style to lighting through LED technology, enhancing pool lighting, garden lighting and other lighting around the home and office.
"We are very pleased with the enthusiastic reception the products have gotten," says Susan Inderbinen, President of LightKulture.com. "We imported samples that we tested in our own backyard. Even in the extreme Florida climate, neither strong sunlight, heavy rain or harsh pool chemicals altered the beauty or functionality of these color changing lights. The unique shapes add color and a bit of whimsy to any garden, courtyard or patio."
For more information, go to -

Smart and Green LED Lamps at LightKulture.com
Carried by LightKulture.com, the innovative products of Smart and Green are based on LED technology and make the best possible use of this potential: strong resistance to impacts, smart management of light and low energy consumption. Designed to follow you everywhere, Smart & Green lights are cordless and rechargeable ,while helping care for the environment. Individuals and interior designers can use their clean lines and bright, colorful light to create just the right design mood.
The key to Smart & Green innovation lies in this innovative concept: the first cordless bulb. This autonomous light module can be integrated in a unique way to light up the object of one's choice while providing freedom and respect for the environment. Choose the shape of a light, its functions and accessories such as a remote control and bring stylish, energy efficient LED lighting to any space.
Beyond the garden, Smart and Green light objects can be used in nightclubs, retails stores, or as a novelty light in a child's room. We even had a doctor order a few for his waiting room, noted Mrs. Inderbinen.
About LightKulture
At LightKulture, our mission is to offer the finest energy efficient contemporary lighting and light fixtures available from around the world. We have assembled an exciting collection of the industry's most innovative decorative and architectural lighting. We are proud to offer lighting solutions for both your home and work- life environments. Simplicity in design is complicated, function makes it last. Be inspired by our range of essential designs from well respected American and European manufacturers. In today's world, energy efficient lighting is as important as eco-friendly or green lighting fixtures, such as LED or CFL lighting. We offer the very best energy efficient lighting and light fixtures, both high value LED lighting fixtures and CFL lighting fixtures in modern and contemporary styles that provide quality, innovation and authenticity.
LightKulture
http://www.lightkulture.com/
Email. sales(at)lightkulture(dot)com
Tel. 941-330 0422