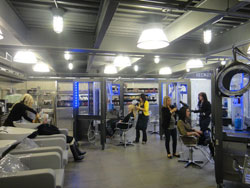 Tuckahoe, NY (PRWEB) May 08, 2012
Innovative Air Solutions (IAS) has recently used their expertise and experience to install heating, cooling and plumbing systems all the while maintaining a contemporary bold look for Industry 80, a new high-profile salon in Scarsdale.
IAS aims to only provide work they can be proud of, as is the case for this extensive project. The owners of Industry 80 and IAS are especially pleased with the outcome of the exposed spiral ductwork, which is integral in the overall design of the salon. The team also installed The Unico System®, Trane® condensers, a Burnham® high-efficiency boiler and a domestic hot water heater. They did all of the plumbing work necessary for a salon, including installation of specialty items such as the sinks used for washing.
Industry 80 offers a full line of salon services to men, women and young adults in a comfortable environment while retaining its edgy, current appeal. Scarsdale is its second location. The flagship salon in Patchogue on eastern Long Island was created, designed and built by Geo Greco whose background in design and passion for the hair business have proven successful for almost a decade. For the Scarsdale location, Geo has teamed up with Dominic Trupia who brings 25 years of success as a creative colorist and stylist to the new salon; he serves as Creative Director for both locations.
Innovative Air Solutions provides high-quality heating, ventilation and cooling solutions for residential and commercial uses in the greater Westchester County, NY area. Owned and operated by brothers Michael and Matthew Carlo, the long-time HVAC family business recently expanded to embrace whole-house performance services as a Dr. Energy Saver® franchise-- making the company even more progressive.
Contact Innovative Air Solutions today to schedule your free estimate throughout Westchester County, NY. We proudly offer residential and commercial heating and cooling repairs and installations including ductwork, duct cleaning, hot water heaters, insulation, heating systems, and air conditioning in Westchester, New Rochelle, White Plains, and all surrounding areas!