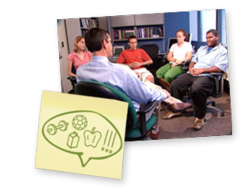 "Breaking this cycle of obesity, self esteem and mental health is important to have today's children free from mental and physical health problems," Dr. Eli Puterman, WellBalance Advisory Board member
Asheville, NC (PRWEB) May 08, 2012
WellBalance, a leading adolescent and adult health & wellness organization that operates fitness, health, and weight loss camps for kids and teens aged 10-20 is supporting the 2012 National Children's Mental Health Awareness Week. An event organized by the National Federation of Families for Children's Mental Health, National Children's Mental Health Awareness Week emphasizes youth overcoming trauma.
In observance of this week-long event, WellBalance fitness and weight loss camps are modifying the Motivation chapters of the ME Plan, the scientifically-based Motivate & Educate program that weight loss campers and alumni use to develop lifelong habits that are needed for healthy living. WellBalance will expand on the behavioral curriculum in the ME Plan to help weight loss campers overcome barriers to healthy living, while also developing coping strategies that will lead to a higher degree of wellness.
"Children's mental health week is a very important week for stigmatized obese children and teens," said Dr. Eli Puterman, researcher in behavioral medicine in the Department of Psychiatry at the University of California at San Francisco, and a member of the WellBalance Scientific Advisory Board. "There's a large body of research that says that obese children and adolescents are at greater risk for low self esteem, which then places them at increased risk of future depression, anxiety, more disordered eating, and other mental health problems as they mature through their teens and adults. Breaking this cycle of obesity, self esteem and mental health is important to have today's children free from mental and physical health problems."
The National Federation of Families for Children's Mental Health began National Children's Mental Health Awareness Week was created by The National Federation of Families for Children's Mental Health to raise awareness and to highlight children's mental health issues.
"While the intentions of Michelle Obama's Lets Move! Campaign are good, there is notable percentage of adolescents whose obesity is merely a symptom of a more profound underlying ailment," commented John Gordon, CEO, "WellBalance's health coaching curriculum is continually refined in order to identify mental health barriers that prevent adolescents from making healthier diet and activity choices and provide new strategies for improved health."
The National Federation of Families for Children's Mental Health invites all participating organizations to use the 2012 event to encourage positive mental health, wellness, and social development for children and teens. The National Federation of Families for Children's Mental Health has provided the following guidelines to successfully implement a comprehensive wellness program that meet the goals of this year's theme:

Emphasis how mental health is essential to overall wellness
Teach families that profound emotional and mental health ailments in youth are real and can be treated.
Provide information to families with children that develop mental health challenges about services and support systems that are family guided, child driven, and culturally sensitive
Promote the values of dignity, social inclusion, and acceptance to children and families.
Publicize to families and youth that their voice is needed when determining appropriate services and interventions.
For more information about how WellBalance is supporting the mental health of their weight loss campers, please contact WellBalance at (800) 975-0435 or visit http://www.WellBalance.com.
###
About WellBalance
WellBalance designed the ME Plan to Motivate & Educate on what medical research shows works for sustainable fitness, weight loss, and health success. Founded by professionals and guided by experts who have led some of the largest behavioral health, mental health, and treatment programs in the country, WellBalance is working to become the leader with a focus on improving an individual's overall health. WellBalance developed the WellBalance Health Score© to rate a person's overall medical, emotional, and fitness health status as well as show a person's progress towards health norms. WellBalance operates summer camps, local programs, and fitness programs for adults. For additional information please visit http://www.wellbalance.com or call (800) 975-0435.